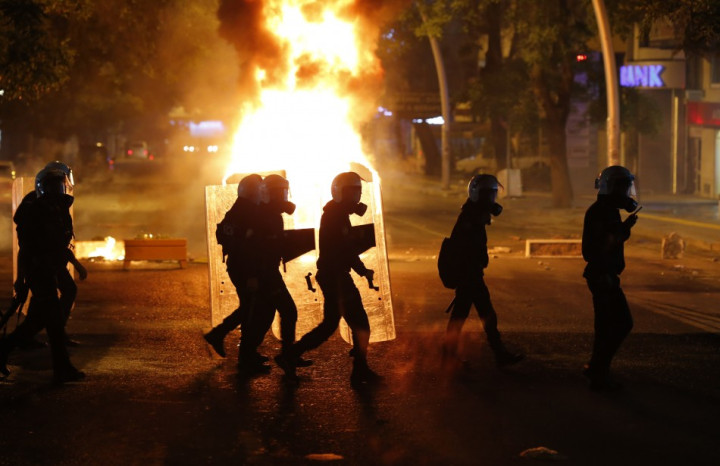 Turkish police have arrested several Iranian nationals in connection with the ongoing anti-government protests across the country as Prime Minister Recep Tayyip Erdogan blamed "foreign" hand in the demonstrations.
According to a source quoted by the Turkish daily Today's Zaman, no less than 15 foreigners have been detained by the security forces and most of them are from Iran.
Shayan Shamloo, who is believed to be working for Iranian Intelligence, has also been apprehended by the Ankara officials in the capital following the unrest.
The source added that Iranian agents played a "provocative" role in the peace rally-turned-violent protests.
The government-backed Star Daily has also reported that another Iranian named Ramin Sarabi has been kept in custody for playing a prominent role in the demonstrations. The initial investigation indicates that Sarabi has been working for Iranian Revolutionary Guards, said authorities.
Erdogan earlier said, "Our intelligence work is ongoing [to establish foreign links to the protests]. It is not possible to reveal their names. But we will have meetings with their heads."
Iran and Turkey are still at loggerheads over the Syrian conflict and Iraqi issues.
Meanwhile, Turkish President Abdullah Gul, who earlier spoke on a conciliatory tone over the protests, said the demonstrations are not 'Turkish Spring' as it was claimed by others.
"Gezi Park protests is not a Turkish Spring. Turkey's Gezi Park incidents are far more different than the incidents in the Middle East. You can see in the Middle Eastern countries that there are debates related to fundamental rights and freedoms. In these countries there are no free elections, public will is not reflected and the courts are not in the standard of the Western countries," said Gul in a statement.
Skirmishes are also being reported across Turkey as police continued to use teargas and water cannons in a few cities to quell the spiralling protests.
Deputy Prime Minister Bulent Arinc, who earlier apologised for the excessive police force on protesters, is likely to hold talks later in the day.
He said the protests which were initially kicked off with a peace rally were "just and legitimate."