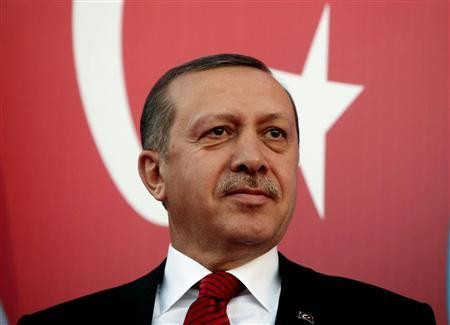 Turkey's Prime Minister Recep Tayyip Erdogan warned Israel that regional anger is mounting over its policies.
Erdogan told the World Economics Forum on the Middle East, North Africa and Eurasia that the Palestinian issue remained "the most important problem threatening peace and stability in the region".
Warning Israel that anger is mounting across the region over its policies, he said: "People are being held captive in the world's largest open-air prison and a large-scale rage is being pumped across the whole region."
He was referring to Israel's nearly six-year-old blockade of Gaza, one of the issues that led to the crumbing of the relationship between Turkey and Israel who were once allies.
In 2009, Erdogan stormed out of an annual World Economic Forum meeting in Davos, Switzerland, following a spat with Israeli president Shimon Perez. Erdogan accused Perez of "murdering innocents by air strikes".
Relations further deteriorated after an incident on a Turkish aid ship that was part of a flotilla headed for Gaza in defiance of an Israeli naval blockade in May 2010.
Israeli commandos boarded the ship, the Mavi Marmara, and nine activists were killed.
Erdogan has reiterated that bilateral relations would be restored only if Israel agrees to apologise for the flotilla raid, to provide compensation and to lift "the terrible Israeli blockade on Gaza".
"If and when Israel fulfils these terms, relations between our two countries can prosper once again," he told Ynet.news.com
Also talking at the Istanbul meeting was Palestinian president Mahmoud Abbas who called on Israel to accept a two-state solution based on the 1967 borders.
"I would like to address our Israeli neighbours and say we are seekers of peace and freedom and our people made a major sacrifice when they accepted establishing their state on less than a quarter of the area of historical Palestine," Abbas said.
"So do not turn your backs on this opportunity.This opportunity may not stay on the table for a long time because the region is witnessing rapid developments," he added.