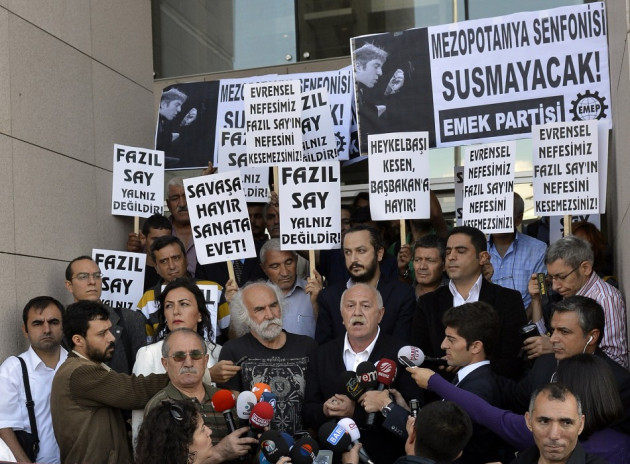 Prominent Turkish pianist and composer Fazil Say has appeared in court on charges of insulting Islam and offending Muslims in comments he made on Twitter.
Say, who has performed with the New York Philharmonic and has been an ambassador to the EU, could face 18 months in prison.
In April, he joked about a muezzin who made a call to prayer that lasted only 22 seconds.
"Why such haste? Have you got a mistress waiting or a raki on the table?" he tweeted.
Raki is a strong Turkish spirit made from aniseed. In another tweet, the pianist quoted 11-century Persian poet Omar Khayyam that ridiculed the hypocrisy of people who pretend to be pious.
"You say rivers of wine flow in heaven, is heaven a tavern to you? You say two hours await each believer there, is heaven a brothel to you?" he tweeted.
The state prosecutor charged the 42-year-old musician with insulting religious values. One prosecutor claimed Say's tweets could lead to a "collapse of public order".
A harsh critic of Prime Minster Recep Tayyip Erdogan's moderate conservative government, Say is the country's leading composer and pianist. He said devout Muslims in government represented "a catastrophe" for Turkey.
An online petition to support him recorded 8,000 signatures and many members of the Turkish and international intellectual community have backed him.
Freedom of speech
Say has rejected the charges against him. Hundreds of his fans gathered outside the courthouse in his support. "Fazil is not alone," read one protest banner.
"It is a crime to accuse Fazil," actor Rutkay Aziz said. "He is one of our international values. He should be free to encompass the world with his composition and piano and we should enjoy his music. This government should go."
The European Union has long pushed Turkey to develop its record on freedom of speech if it wants to become a member of the bloc.
In a report on Turkey, the EU slammed Ankara for "recurring infringements of the right to liberty and security and to a fair trial, as well as of the freedom of expression".
It said restrictions on media freedoms and an increasing number of court cases against writers and journalists remained "serious issues".
Erdogan himself was imprisoned in 1998 when he was mayor of Istanbul for declaiming a poem that a court deemed was an incitement to religious hatred. He served six months in jail.
The poem he had read contained the verses; "The mosques are our barracks, the domes our helmets, the minarets our bayonets and the faithful our soldiers."