Turkish Prime Minister, Recep Tayyip Erdogan, launched a verbal attack on media and women, on Thursday (7 August), after he branded the reputed journalist of The Economist, Amberin Zaman, a "shameless woman" and told her "to know her place".
Speaking at an election campaign rally in southern Turkey on Thursday (7 August), Erdogan indirectly shamed Zaman by labelling her as a militant.
"A militant in the guise of a journalist, a shameless woman," said Erdogan before adding, "They gave you a pen and you are writing a column in a newspaper... and you insult a society that is 99 percent Muslim."
His comments were in direct response to Zaman's remarks on a television debate earlier this week where she had questioned the leader of the main opposition in Turkey, Kemal Kılıçdaroğlu, asking him whether a "Muslim society is able to question" its authorities.
Since then, Zaman's remarks have been condemned on social media by pro-government supporters as "insulting to Islam and Muslims".
Zaman's husband, Joseph Pennington, expressed his disbelief at Erdogan's mockery of his wife.
The Economist's strong rebuttal to Turkish PM's outrageous remarks about their Turkey correspondent (and my wife) http://t.co/pNJV2itY4u

— Joseph Pennington (@JPennington_) August 7, 2014
A statement from The Economist read:
"Ms Zaman has been The Economist's correspondent in Turkey for 15 years and is widely respected; we stand firmly by her and her reporting. The intimidation of journalists has no place in a democracy. Under Mr Erdogan, Turkey has become an increasingly difficult place for independent journalism."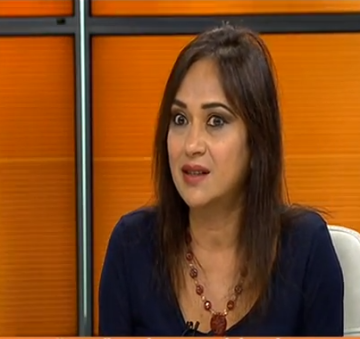 Zaman also came to her defence by responding to Erdogan in her column, in the Taraf newspaper, where she said: "Be a human first! You are lynching a Muslim woman who described what you are doing. Because women are sitting targets, aren't they?"
Zaman further claimed being the target of a pro-government media campaign that has branded her a "Jewish bitch" who should become a "concubine" of Islamic jihadists in Iraq, as reported by The Daily News.
Meanwhile, the Organization for Security and Co-operation in Europe (OSCE)'s Representative on Freedom of the Media, Dunja Mijatović, expressed her concerns over the targeting of the prominent Turkish journalist.
"I am alarmed by the latest example of intimidation of and threats towards journalists in Turkey. Critical ideas are indispensable elements of democratic debates, and they need to be safeguarded and not attacked by the authorities," said Mijatović.
The news comes a day before the first round of Presidential elections in Turkey, with Erdogan being a clear favourite to win.
Journalists have repeatedly come under scrutiny in Turkey with 70 journalists reportedly being persecuted in the country at present. New York based media watchdog, Freedom House, has also recently downgraded Turkey's status from "partially free" to "not free".
In earlier reports, Turkey's Deputy Prime Minister, Bülent Arinc, made headlines on 29 July after his sexist rant declaring that women should not laugh loudly in public.