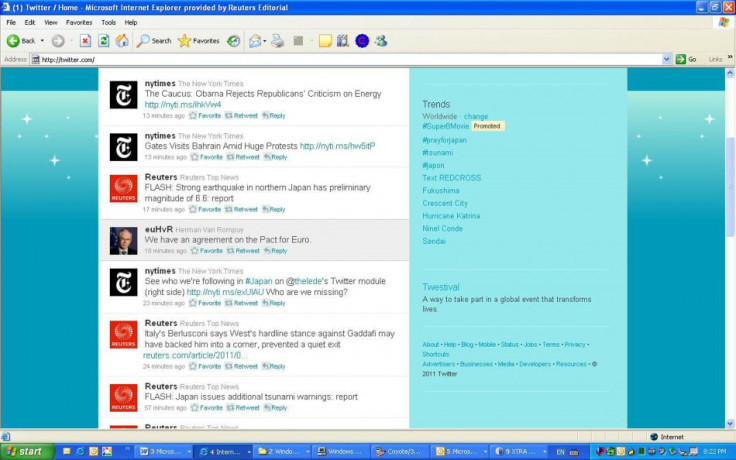 A Twitter user has published claims about 14 injunctions allegedly obtained by high-profile performers, sportsmen and politicians.
The list, which was originally posted over the weekend, was taken down on Monday with less than 200 people following.
But the page was republished hours later and has over 4,000 followers at the time of writing.
The anonymous poster included links to alleged court documents as well as the full names of some people who have supposedly been granted injunctions.
The list includes four sportsmen who allegedly had extra-marital affairs, a pop singer who obtained an injunction to hide a lesbian liaison and a number of well-known television personalities who also took out gagging orders.
But not all of the information appears to be accurate, with many of the 'revelations' linked to old, existing stories and court documents that don't name the celebrities in question.
Last month a similar list was posted on Twitter which wrongly identified socialite Jemima Khan as having obtained an injunction to hide a relationship with Top Gear presenter Jeremy Clarkson.
Since then a number of other well known figures have been falsely accused of obtaining gagging orders. The latest revelations have prompted fears that innocent people were being unfairly targeted because of the glut of secrecy orders being granted in recent months.
The page appeared on Twitter just hours after the U.S. based company agreed to release the personal details of five account holders after a legal challenge brought by officials at South Tyneside Council.
The landmark legal case could have far reaching implications for Twitter users who have used the site anonymously to reveal injunctions.
Earlier this month the Manchester United footballer Ryan Giggs brought a lawsuit against Twitter at the high court in London demanding that the company release the details of a user who named Giggs as the footballer who took out an injunction to hide an alledged extramarital affair with glamour model Imogen Thomas.
Anyone who knowingly breached a court injunction by naming the individuals involved could be found in contempt of court and jailed or fined.