As Twitter celebrates its seventh birthday we look back at seven momentous moments in the history of the micro-blogging phenomenon.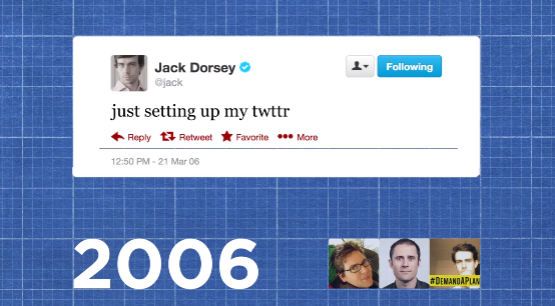 On the 21 March, 2006 co-founder and chairman of Twitter Jack Dorsey sent the service's very first tweet. Seven years later it is not overstating the facts to say the micro-blogging site has changed the way we see the world and how we consume news.
To celebrate the company's seventh birthday, here are our pick of the seven most important moments in the company's history so far:
1. Hello world
When Dorsey wrote "Just setting up my twttr" he probably had no idea of the impact his product would have on social networking and spreading news.
Seven years later the service has some 200 million active users posting 400 million tweets each day. Twitter remained an internal project until it was launched to the general public on 15 July, 2006 and by March 2008, the service had 1.3 million registered users.
2. Miracle on the Hudson
When US Airlines flight 1549 was ditched into the Hudson River in New York, the very first image of it floating in one piece with its passengers standing on the wings was published on Twitter.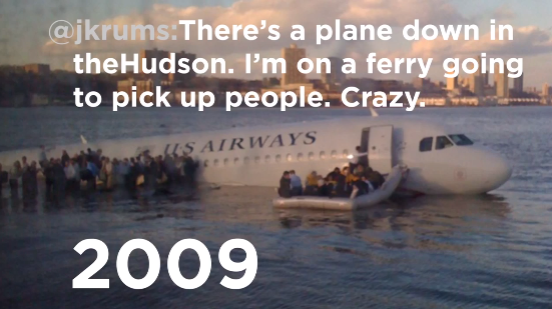 Taken by an eyewitness who was on a nearby boat used to rescue the plane's lucky passengers, the image was retweeted hundreds of thousands of times all over the world while local while TV news teams struggled to locate the plane with their helicopter camera.
3.One Small Tweet for Man
On 21 January, 2010 Timothy Creamer became the first person to send a tweet from space, having successfully established internet access to the International Space Station. Previously, tweets were dictated back to Earth to be published.
"Hello Twitterverse!" Creamer wrote. "We arer now live tweeting from the International Space Station - the first live tweet from Space. More soon, send your questions."
Twitter has since been used extensively by the Curiosity Rover, which tweets updates, images and video from the surface of Mars to more than 1.4 million followers.
4. Tweeting the Revolution
During the Arab Spring of early 2011, which saw citizens of Tunisia and then Egypt force their leaders out of power, Twitter was used extensively to get news out of countries where traditional broadcast media was locked down.
Where journalists and television crews were not allowed, citizens took broadcasting into their own hands, filing messages, photos and video to the rest of the world with Twitter on their mobile phones.
The remarkable way in which Twitter was helping the West to better understand the uprising lead to '#egypt' becoming the most-tweeted hashtag of 2011, beating Justin Bieber and the high-profile, tigerblood-induced meltdown of Charlie Sheen.
5. The Deepest Tweet
Having already been used in space and on Mars, Twitter was used from the deepest part of the world's oceans in May 2012, when film director James Cameron tweeted from the bottom of the Mariana Trench.
Aboard the Deepsea Challenger submersible, Cameron tweeted from 35,755 feet (2.5 miles) below the surface of the Pacific Ocean, saying: "Just arrived at the ocean's deepest part. Hitting bottom never felt so good. Can't wait to share what I'm seeing with you."
6. Advertisers Strike in Super Bowl Blackout
A half-hour power cut in the third quarter was the most tweeted moment of the 2013 Super Bowl, and it took just four minutes of darkness for the first promoted tweets to appear on Twitter.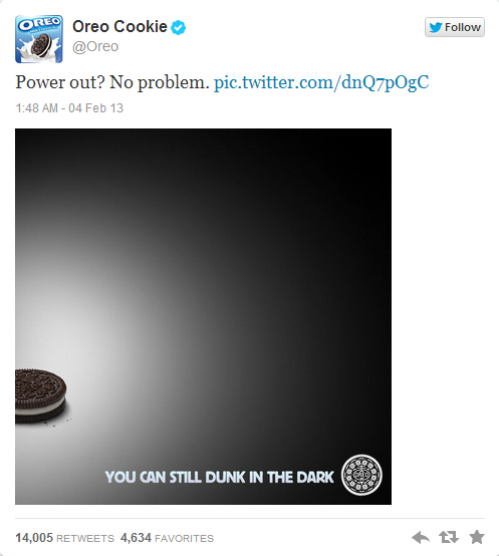 The blackout prompted 231,500 tweets per minutes, but more interestingly it caused advertising agencies to scramble their staff to take advantage of the unique event watched by millions.
Oreo cookies released an advert on Twitter soon after the powercut with the tagline "You can still dunk in the dark", which received more than 10,000 retweets in its first hour and 18,000 by the end of the game.
Samsung and BlackBerry each paid £2m for their 30-second televised adverts during the Super Bowl, but Twitter showed how quick-thinking advertisers can also attract significant attention from consumers and media alike with an image commissioned and tweeted for a fraction of the price.
7. Pro Boxer Pays Twitter Troll a Visit
For all its good, Twitter's ability to spread anonymous views far and wide has got users into trouble. So-called trolls have attacked celebrities, sportsmen and politicians alike while hiding anonymously behind the screen. But earlier this month professional footballer-turned-boxer Curtis Woodhouse took matters into his own hands when threats and abuse were tweeted to his family.
Having asked his followers for information on Twitter user 'Jimmyob88', Woodhouse was given an address which he then used to track down the user, real name James O'Brien. Tweeting on his way to O'Brien's house, Woodhouse gained thousands of followers as well as retweets of support from boxer Lennox Lewis and footballer Joey Barton.
On arriving at O'Brien's street, Woodhouse tweeted a photo of the road sign to prove he was there and asked his abuser to come outside for a chat.
"I think the daft lad thought I was joking," Woodhouse tweeted from outside O'Brien's house. "Where are you keyboard warrior?"
Woodhouse headed home after being unable to find O'Brien's house number, but the two of them finally met on the Daybreak television programme later in the week, where Woodhouse accepted O'Brien's apology.