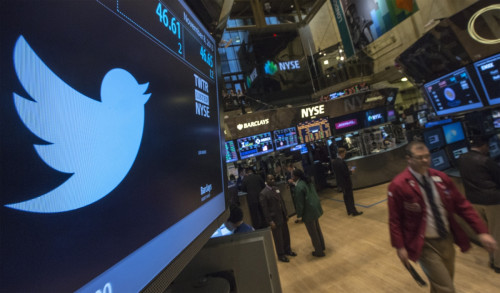 Twitter is to deliver its fourth-quarter financial results at the end of trading on 5 February, its first earnings call since becoming a public company three months ago.
After a storming stock market debut in November which saw its $26 (£16) opening price rise to a high of $73, before dipping to its current level of $66.32, Twitter will need to prove its worth to investors keen to understand how the service plans to be profitable.
Yet to deliver a profit since its 2006 launch, Twitter is expected to report another loss for the fourth financial quarter, with Benzinga reporting estimated net losses of $0.02 per share for the quarter, and $0.19 for the full year.
Meanwhile, revenue is expected to be $217.78 million for the quarter and $639.39m for the year.
Upbeat
Despite the lack of profit, analysts remain upbeat, with Mark Mahaney of RBC Capital Markets giving Twitter an "outperform" rating, adding in a note to clients: "We remain positive on Twitter's ability to become one of the web's leading utilities, alongside Google, Amazon and Facebook."
Mahaney went on: "Twitter has displayed very robust growth in key metrics, and we have confidence that this momentum can continue as the company develops its advertising platform...we remain enthusiastic about the company's long-term opportunity."
Twitter has more than 230 million users and will see opportunities for profit from continuing to deliver advertisements to users' timelines, as well as through selling analytical data collected through the service's use.
Research firm eMarketer estimates Twitter will bring in nearly $1 billion in ad revenues in 2014, AFP reports.
An excessive valuation
But it isn't all good news for the micro-blogging service, as analysts from Cantor Fitzgerald have given Twitter a "sell" recommendation, believing its valuation is "excessive." The analyst firm sees "more downside than upside short-term," even with strong advertising revenue.
Despite Twitter's surging share price, Eric Chemi writing for Bloomberg's Businessweek states: "The stock performance of a newly listed public company during its first three months tells you basically zero about what happens in the future."
Morgan Stanley's Scott Devitt rates Twitter as "underperform," adding that investors should listen carefully to what the site's board of directors has to say after the financial results are announced.
"We look for management commentary to focus on providing insight related to Twitter user growth and engagement, while discussing new product developments that could drive future revenue initiatives, especially in targeting offline TV ad dollars."