The latest in a seemingly continuous cycle of severe storms to affect the UK claimed two victims on Valentine's Day. In London, a 49-year-old woman was killed when the car she was driving through Holborn was hit by debris when a building collapsed. Two other people in the car – a 24-year-old woman and 25-year-old man – were injured, though not seriously.
Meanwhile, an 85-year-old passenger aboard the Marco Polo cruise ship died after a freak wave smashed a window in the vessel. A number of others were injured, including a woman in her seventies who was airlifted ashore. The boat was in the English Channel en route to its home port in Tilbury, Essex, from a 42-night voyage to the Amazon and West Indies.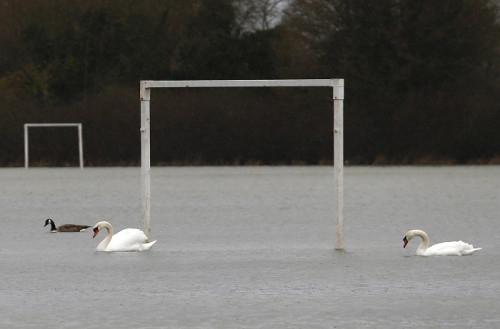 Valentine's Day diners at a beachfront restaurant at Milford on Sea in Hampshire had to be rescued by the army when severe winds blew shingle from the beach through the windows and surging flood-waters poured through the ground floor. Diners at the Marine Restaurant were evacuated in an army vehicle but no one was injured. According to its owners, the restaurant's ground floor remains underwater.
Trains have been cancelled, major roads closed and 165,000 homes and businesses are without power following the Valentine's Day storm, the latest in a series of unusual weather events to hit the UK over the last two months. Over 200 serious flood warnings remain in place, including 21 severe alerts, meaning there is potential danger to life. Winds of up to 100 mph hit the South and West coasts and in northern England and Scotland snow has also settled on higher ground.
With much of south-west England and Wales still badly affected by flooding and tidal surges, there has been anger at the government's failure to adequately prepare for the severe weather, and the Environment Agency has also come under fire. However, there is finally some consolation for our weather-beaten shores: the Met Office website cautiously predicts the worst of the storms may be over - at least for now:
"Looking further ahead, it is a slightly improved picture - Sunday looks dry with sunshine for most, after a frosty and in places icy start. We can expect more rain on Monday but this is expected to be less intense than recently, with lighter winds."