Hurricane-strength winds exceeding 108mph have smashed into Britain, cutting power to 70,000 homes and shutting down almost the entire network of one major rail operator.
South Wales, which has borne the brunt of the most severe weather, has more than 42,000 homes without power. Ten thousand properties in North Wales are in the same position.
A further 8,100 homes in the southwest of England and 10,000 in the West Midlands also have no electricity supply.
The violent weather has also wreaked havoc to transport with Virgin scrapping services on all lines except the key London-Birmingham route. Train lines across the country are at the mercy of flooding, landslips, uprooted trees and flying debris.
A Virgin Rail spokeswoman said the situation was rapidly changing due to infrastructure damage across the country. She added that refunds would be paid to customers who do not make their journeys.
Heathrow and London City airports reported minor delays on some flights but these were expected to decrease. Passengers should check with their airlines before setting out.
The Met Office issued a red warning, it's rarest and most severe type, after it forecast storm-force winds. The storm had gathered momentum over the Atlantic before it slammed into Britain.
According to the Beaufort Scale of storm strengths, "hurricane force", or Force 12 relates to wind speeds in excess of 74mph.
Maj Gen Patrick Sanders, who is coordinating the armed forces response, said the floods were an "almost unparalleled natural crisis".
Fifty homes along the Thames Valley were flooded overnight, bringing the total number of homes flooded since Friday to 1,135.
Flood protection has gone up around 181,000 properties and more than 200,000 householders have been put on flood alert following the wettest January since 1766.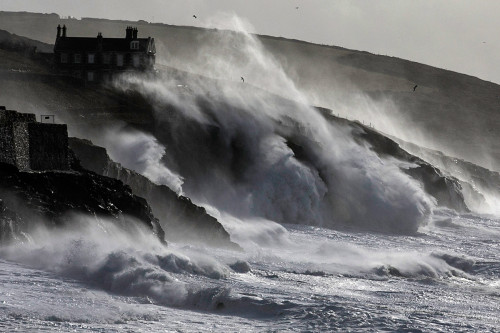 Fourteen severe flood warnings remain in place in Berkshire and Surrey, while two are still in force in hard-hit Somerset.
The Environment Agency has warned residents in Windsor, Maidenhead and in Surrey to expect severe disruption as the Thames is expected to rise in places to its highest levels for more than 60 years.
Paul Davies, the Met Office chief meteorologist, said: "The winds through Wednesday afternoon and evening will be damaging and will bring down trees, causing travel disruption and disruption to power networks.
"We advise everyone to stay up to date with Met Office Severe Weather Warnings and the latest details from our UK forecast during this time of particularly unsettled weather."