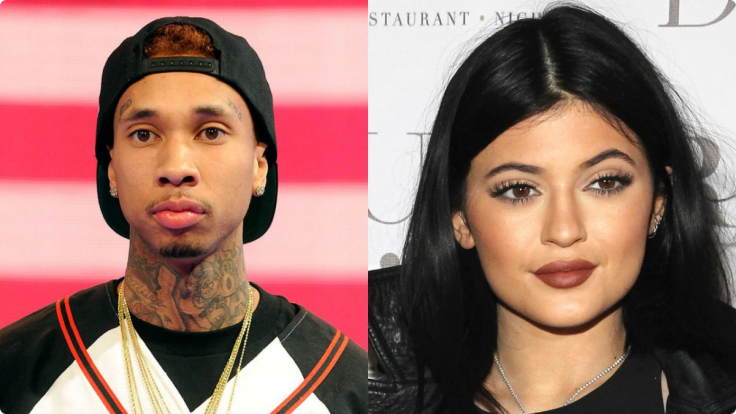 Tyga's relationship with Kylie Jenner may have been the catalyst for Amber Rose's and Khloe Kardashian's Twitter spat, but the rapper wants the world to know that there's nothing seedy going on.
After Rose slammed him for seeing a 17-year-old girl, the Rack City hit maker dropped by the Power 105.1's Breakfast Club to set the record straight.
During his interview with DJ Envy, Angela Yee and Charlamagne Tha God, the 25-year-old denied dating the reality star, and claimed that black culture does not understand that men and women could just be friends.
"I'm not dating Kylie, I just want to get that out of the way," the musician said. "I want to be clear to everybody that I didn't leave my family to be with Kylie. That's ridiculous. It's crazy. I've been knowing her and her family a long time."
He continued: "In black culture, if you hang around somebody you smashing them but white culture is different. They're really friends... like yo. 'this is my friend'. Its genuine' its different. How we think is a little different, out mentality. For me, I say I'm friends with her and I'm friends with her sister, they're hoes or we smashing them. It's like were really friends. I respect her mom and family."
The hip hop star went on to reveal that despite reports, he maintains a good relationship with former girlfriend Blac Chyna and they are doing a great job of co-parenting their son, King Cairo.
"Me and Chyna, we broke up almost close to a year [ago] now, because of the decision we made, and things in our relationship that weren't going right, [so we] decided to split to raise an emotionally stable kid," he explained.
"That's what we did and now we have a great relationship. He spends as much time has he can with his mom and as much time as he can with me. It ain't no pressure."
The prior week, Rose blasted Jenner during a radio interview, insisting she is a baby that "needs to go to bed at seven o'clock'. She added that the 17-year-old's rumoured boyfriend Tyga, 25, should "ashamed".
When Khloe took to twitter in her little sister's defence, Wiz Khalifia's wife hit back with some more cruel comments about the Kardashian/Jenner clan.
West dated Rose from 2008 until the summer of 2010. In an awkward twist, Kardashian was previously BFFs with Blac Chyna, who shares a son with Tyga, born Michael Ray Nguyen-Stevenson.
Interestingly, Tyga, whose real name is Michael Ray Nguyen-Stevenson, pointed out that although the age of consent is 18 in California, it is 17 in New York.
" If I wanted to. But, you know.I think [Kylie] is a beautiful young woman, and I think she's, you know, her maturity and mentality is different than a lot of people," he added.