Kanye West's loyalty to Kim Kardashian has been called into question after he failed to defend his wife following a scathing attack from the rapper's ex-girlfriend Amber Rose.
Fans claimed the rap star was more likely to defend his precious Beyoncé than his reality star wife, after rose branded Kardashian a "wh*re" during a bitter Twitter feud with Khloe Kardashian.
It all kicked off on social media after Rose blasted Kylie Jenner during an interview with K Foxx on Power 105.1's The Breakfast Club, insisting she is a baby that "needs to go to bed at seven o'clock'. She added that the 17-year-old's rumoured boyfriend Tyga, 25, should "ashamed".
When Khloe took to twitter in her little sister's defence, Wiz Khalifia's wife hit back with some more cruel comments about the Kardashian/Jenner clan.
West dated Rose from 2008 until the summer of 2010. In an awkward twist, Kardashian was previously BFFs with Blac Chyna, who shares a son with Tyga, born Michael Ray Nguyen-Stevenson.
Their heated exchange quickly escalated when Khloe decide to quote a line from Rose's radio interview. Khloe tweeted: '"I was a stripper since I was 15 years old," Amber Rose told Foxx. Please don't worry about my sister who has a career & her s*** together at ONLY 17. people who live in glass houses shouldn't throw stones.
"Please stop talking about us in interviews mama. None of us talk about you."
Not one to forgo the last word, Amber responded: "I'm happy u brought up the fact that I was a stripper at 15.... I'll be that lil w***e to support my family like ur older sister is a w***e 2 support hers. We're even. [sic]"
While stars including Kardashian's ex Reggie Bush, reality star Evelyn Lozada and rapper Trina jumped on social media to offer their two cents, West was surprisingly quiet.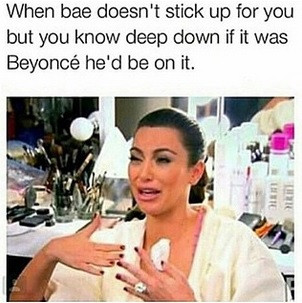 To add insult to injury, when Rose caught Khloe liking her nude images on Instagram she reposted the screen grab and used West's infamous stage invasion of Taylor Swift's 2009 Video Music Award speech.
"Yo @khloekardashian I'm really happy for u and I'm gonna let u finish but I have the best leaked nude pics of all time! #StopSweatinMeHoe," she captioned the snap."
It seems the duo have called a truce for now.