A Chinese newspaper has suggested that Beijing should send warships to the Philippines after the row over China's meagre contribution for typhoon relief to Manila, which was dwarfed even by Ikea.
In an editorial piece entitled "Warships should help Manila rescue", the Global Times suggested that China should follow the example of other world superpowers and back up its financial donation with military troops to help rescue efforts.
"All the warships come to the Philippines for the indisputable goal of disaster relief," the Communist party mouthpiece wrote after a US aircraft carrier anchored off storm-ravaged Samar island to help relief efforts.
"China should send its warships to the Philippines too."
The offer touched a nerve in Manila as the two countries are embroiled in a bitter territorial dispute over islands in the South China Sea.
In 2012 Beijing sent patrol vessels inside what Manila claims to be its territorial waters to prevent the arrest of Chinese fishermen accused of poaching near Scarborough Shoal.
The navies of the two countries have been scuffling over the disputed territory since.
"Sending Chinese warships to the Philippines at this time is well-intentioned," the Global Times wrote. "If Manila refuses the motion, that will only underscore its narrow mind and will be of no loss to China."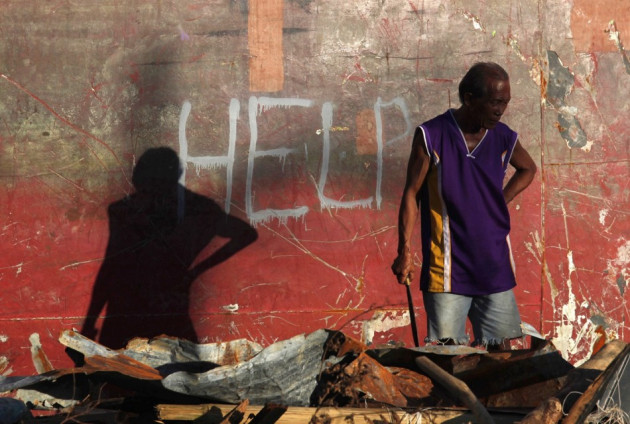 The editorial was shrugged off by Filipino netizens.
"No, we're fine, thank you," tweeted @gibbscadiz.
"In the midst of our disaster China continues to mock the world," wrote @isis_of_march.
Typhoon Haiyan, locally known as Yolanda, has killed at least 4,000 people but authorities expect the death toll to rise to 10,000.
The Global Times had earlier argued that Beijing's far-from generous contribution to typhoon relief was a strategic mistake and was a missed opportunity to exercise a little soft power.
The world's second largest economy initially offered only $100,000 to Manila, one 20th of the US donation. Britain pledged $32m, Australia $28m and Japan $10m. Even Swedish furniture company Ikea outperformed china by offering $2.7m through its charitable foundation.