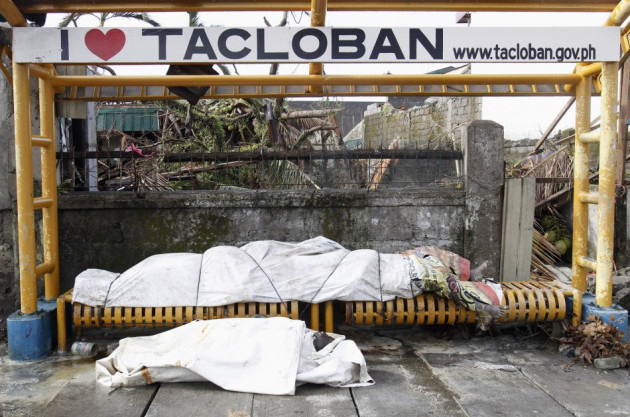 Eight people have been killed in the Philippines after survivors of Typhoon Haiyan stormed a rice warehouse in desperate search of food, causing a stampede.
Meanwhile fears of a disease epidemic are rising as scores of dead bodies remain unmoved on streets and pavements in the city of Tacloban, which was at the epicentre of the super-storm.
The stampede took place in Alangalang, around 25km from Tacloban in Leyte province, which was decimated by the typhoon after it made landfall on the morning of 8 November.
The victims were crushed to death after a wall of the government-owned warehouse collapsed under the weight of the stampede. Around 100,000 sacks of rice were removed in the chaos.
The chronic shortage of food which prompted the stampede is just one of myriad problems facing the Filipino authorities, which have been unable to move scores of dead bodies in Tacloban and Leyte's other major conurbations.
Five days after Haiyan, locally known as Yolanda, ripped through Leyte, corpses have begun decaying while the authorities are struggling to manage the situation.
Despite the World Health Organisation (WHO) saying the bodies of the victims do not pose a health risk, the survivors are gripped by fear.
Eric Tayag, Director of the National Epidemiology Centre in the Philippines, tweeted: "The health risk to the public is negligible unless dead bodies are touched and hands are unwashed. Basic hygiene, hand washing, using gloves or boots if available can protect body handlers from potential exposure to infections."
Although storm survivors appeared to have acclimatised to the sight of bloated dead bodies, some of them uncovered, the stench from the decaying corpses is posing problems.
Locals are increasingly frustrated that the federal government is acting slowly. Survivors have put up signs urging authorities to remove the bodies. Some corpses have been covered with whatever material available in the vicinity.
Mass burials are also taking place across the province to get rid of the bodies as soon as possible.
In the town of Palo in Leyte, more than 150 dead bodies, mostly unidentified, have been buried in a mass grave near a church. The church decided to press ahead with the mass burial as corpses continued to pile up.
Meanwhile, the Philippines President Benigno Aquino has said the earlier death toll of 10,000 may have been overstated by local officials.
He told CNN in an interview, "We're hoping to be able to contact something like 29 municipalities left wherein we still have to establish their numbers, especially for the missing, but so far 2,000, about 2,500, is the number we are working on as far as deaths are concerned. 10,000, I think, is too much."
According to the UN, as many as 11 million people are estimated to have been affected by the typhoon while more than 670,000 people have been displaced. Many of the displaced are thought to have no access to food and water.