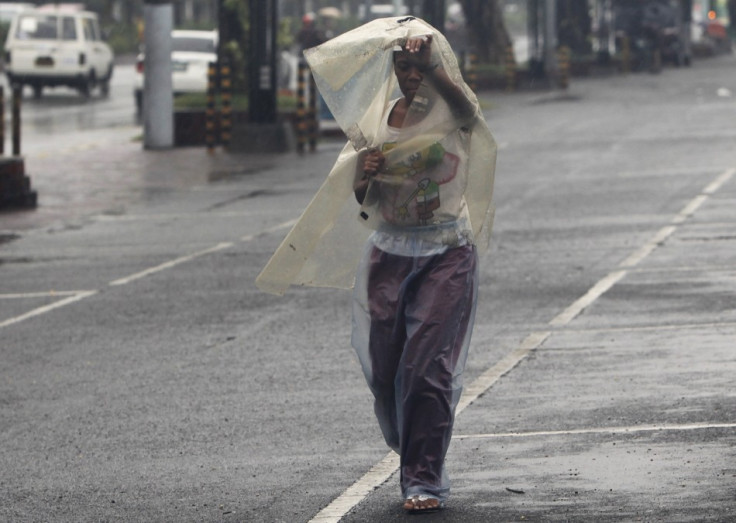 At least seven people have died as Typhoon Nesat struck the Philippians' main island.
Nesat slammed into the main Island of Luzon this morning, dumping heavy rains throughout the day that flooded parts of the capital, Manila.
At least seven people, including a 22-month old boy, were killed in the storm, with four missing, the disaster agency said.
An adult and three children were crushed to death as a building collapsed in a northern Manila suburb, according to the Office of Civil Defence.
Two men were also said to have died north of the capital in a landslide and weather-induced accident.
There are fears the death toll may rise further.
The powerful typhoon has also caused floods, cut power and halted work in the capital city of Manila. Nesat also forced the closure of the Philippine Stock Exchange and the US embassy in the city.
In all, authorities ordered more than 100,000 people across the country to shelter from Typhoon Nesat's rains, winds of 75 mph (120 kph) and gusts of up to 93 mph-fast enough to bend street signs.
"We cannot give any estimate of damage at the moment because the typhoon is still battering many provinces," said Benito Ramos, head of the national disaster agency.
Large portions of the capital Manila, a city of 13 million, were without power. Officials shut some rail networks as a precaution after high winds cut power lines and toppled electric posts. A number of flights were also cancelled.
"This is only a temporary shut-off, so that there will be no accidents, no short circuit, because if electric posts are toppled, there might be short circuits," Ramos said earlier.
The typhoon is expected to continue across the country, before blowing across the South China Sea towards southern China on Thursday. It comes almost exactly two years after Typhoon Ketsana killed more than 400 people.