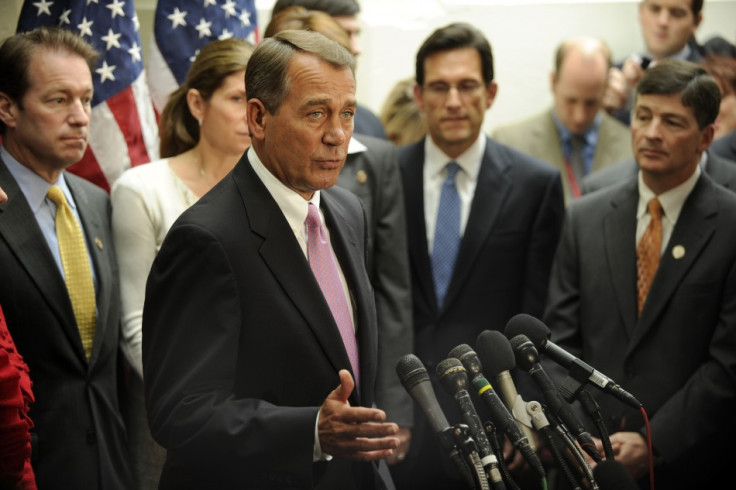 House Republicans are decided to press ahead with a vote on a newly modified plan to avoid the dreaded government default next week, despite warning from the White House that President Obama could veto the plan with the backing of Senate Democrats.
As the House prepared to vote Thursday, investor worries that if the Congress does not overcome divisions and frustrations stocks could as a result suffer and fall dramatically.
Tensions were further amplified after the Dow Jones industrial average dropped almost 200 points on Wednesday, on top of a 92-point drop the day before.
House Speaker John Boehner, backed by his conservative's supporters criticised the measure, saying it contains smaller spending cuts than a more strict debt measure that passed the House last week.
The new measure depends on caps on agency budgets to cut more than $900 billion from the deficit over the coming decade while permitting an adequate increase in the nation's borrowing, which would then allow the government to pay its bills.
While Boehner acknowledged the measure he proposed has its flaws, he added it represented "the best opportunity we have to hold the president's feet to the fire. He wants a $2.4 trillion blank check that lets him continue his spending binge through the next election. This is the time to say no." Boehner made the comments Wednesday to conservative radio host Laura Ingraham.
The White House however insisted the bill did not meet President Barack Obama's demand for an increase in the debt limit that large enough to prevent a rerun of the current crisis next year to avoid interfering with the 2012 election campaign, and the administration has hinted at the possibility of the President vetoing the proposition.
Obama has made it clear he supports an alternative plan drafted by Senate Majority Leader Harry Reid, D-Nev., that contains comparable cuts to agency operating budgets but also claims savings from lowball estimates of war costs.
According to Reid, his plan would provide up to $2.7 trillion in additional borrowing authority, enough to tide the government over through 2012, and thus after the Presidential campaign.
Boehner, on the other hand has said he hopes that the Democrat-controlled Senate will pass his measure, but analysts predict that a compromise between the two plans seems like the best working solution.
Boehner and Reid's plans are not so different in essence -they both want the establishment of a special congressional panel to recommend additional spending cuts this fall -and even Reid has hinted a mixed plan solution could be worked out.
"Magic things can happen here in Congress in a very short period of time under the right circumstances," Reid told reporters.
The Congress must act before Tuesday August 2, as if no plan is passed by the deadline, administration officials have warned the government will not be able to pay all its bills, which include a $23 billion in Social Security benefits due Aug. 3, a $87 billion payment to investors to redeem maturing Treasury securities and more than $30 billion in interest payments due Aug. 15.
Treasury Secretary Timothy Geithner has reiterated his fear that a default would have catastrophic consequences for the country as the economy is still very fragile, having not yet fully recovered from the worst recession in decades.
House Republicans were forced to modify their measure on Wednesday to increase its prospects of passage after congressional budget analysts said the plan would produce smaller savings than originally promised, less than $1 trillion in spending cuts over the coming decade rather than the $1.2 trillion Boehner had announced on Monday.
According to many however the changes remained minimal but are expected to bring savings for 2012 to $22 billion, as part of a 10-year cut of $917 billion, which would trigger a $900 billion increase in the debt limit.
Boehner, trying to rally a fractured Party, told Republicans during a meeting on Wednesday
"Get your ass in line; I can't do this job unless you're behind me."