This week, the world of cybersecurity was dominated by the massive hack at Uber after insiders confirmed it had paid hackers $100,000 (£75,000) to delete data stolen from the company. The leak, it emerged, impacted approximately 57m people, both customers and drivers.
In other news, Megaupload founder Kim Dotcom weighed in on the net neutrality debate by teasing his own version of the internet and a fintech startup called Tether admitted that hackers were able to infiltrate its networks and steal more than $30 million-worth of cryptocurrency.
To keep you up-to-date with the infosec news, here are the biggest cybersecurity stories of the week as chosen by the IBTimes UK technology desk:
Commercial spying apps for Android devices were being openly advertised on Google and – upon installation – could be used to snoop on text messages, calls and Facebook chats, it was found. According to Kaspersky Lab, the popularity of such services was spiking.
Austrian police said cyber-thieves transferred bitcoin worth more than €100,000 (£89,000, $117,000) from a man's account while he was logged in to a public WiFi network. A police statement said that the bitcoins were moved to an "unknown, non-traceable account".
Megaupload founder Kim Dotcom weighed in on the controversy surrounding the US government's decision to overturn net neutrality. Dotcom took to Twitter and used the opportunity to hint at a potential future launch of his own version of the internet — MegaNet.
Barclays bank warned customers about a rise in text-based scams attempting to steal personal details, urging anyone who responded to the fraudsters to get in contact. In a Facebook update on Tuesday (21 November), it posted screenshots of the scammers in action.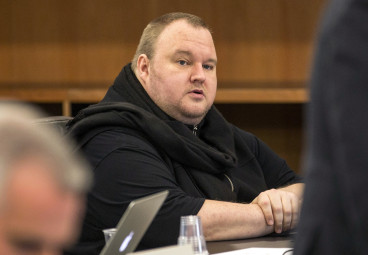 Cryptocurrency startup Tether announced that an unknown hacker had stolen nearly $31m worth of digital currency from the company. Tether said the hackers stole funds from the company's own wallet on 19 November and moved it to an "unauthorised Bitcoin address".
Uber concealed a cyberattack that affected 57 million customers and drivers around the world after paying a ransom to hackers, the company confirmed. The ride-hailing app said a breach was hidden by the firm, which paid hackers $100,000 to delete stolen data.

Security researchers discovered that the notorious BankBot Trojan has again found its way to Google Play by hiding in seemingly trustworthy apps such as flashlight and Solitaire apps. Experts said thousands of Android users were infected by new versions of the malware.
Researchers at Princeton University found that more than 480 popular websites were keylogging data and sending it to third-party servers. Some of the most popular and heavy-trafficked websites in the world were found to be running third-party scripts called "session replay".