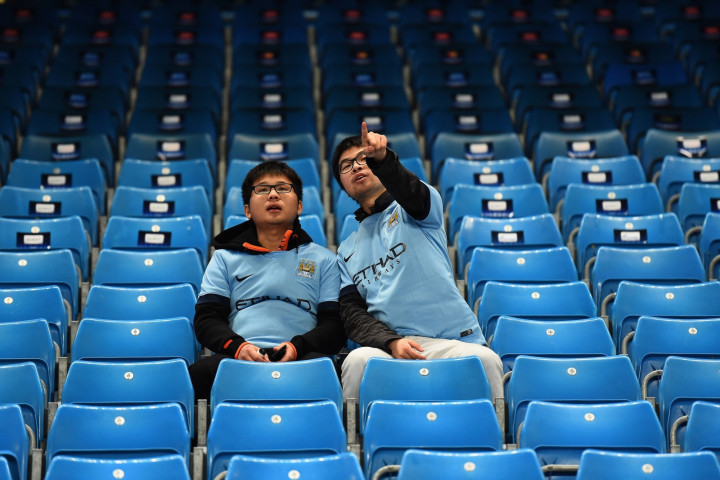 9:45: Manchester City's woes in Europe have reached an all-time low. a 2-1 defeat to CSKA Moscow marred by two red cards for Yaya Toure and Fernandinho see them sat bottom of the group with two points with just two games remaining.
Manuel Pellegrini's side once again failed to bring the attacking verve that so often lights up the Premier League to this competition and floundered in front of CSKA Moscow. Wins against Roma and Bayern Munich could still see them qualify but their performances so far in the Champions League provide little hope of that happening.
Chelsea meanwhile haven't quite sealed their qualification after being held to a 1-1 draw away to NK Maribor as Eden Hazard missed the opportunity to seal all three points from the penalty spot. Jose Mourinho's side still sit top of the group with eight points, but with Schalke on five in second, Sporting on four and Maribor on three, there is still all to play for in Group G.
Bayern Munich 2-0 Roma
Manchester City 1-2 CSKA Moscow
Ajax 0-2 Barcelona
PSG 1-0 APOEL
NK Maribor 1-1 Chelsea
Sporting 4-2 Schalke
Athletic Bilbao 0-2 FC Porto
Shakhtar Donetsk 5-0 BATE
FULL TIME
Manchester City 1-2 CSKA Moscow
9:36: Aguero goes down again! The Argentine picks the ball inside the left of box, tries to dance across the box but goes down under the challenge of Ignashevich. The referee isn't interested however. That should be it.
9:35: We are deep into added time now, Last roll of the dice for City.
9:34: Aguero booked for diving! Immediately after that chance CSKA give the ball away to Nasri who threads a ball into Aguero. The Argentine veers wide with Ignashevich sliding across to block his effort but goes down. Replays show it was probably the correct situation and City's humiliation grows.
9:33: Zabaleta picks up the pieces after a free kick is partially cleared, shows neat footwork to slide into the box but his threaded ball across goal just about evades Dzeko.
9:31: Samir Nasri should have been the third City man to be sent off. CKSA, winding the clock down, opy for a short corner, prompting Nasri to come over and cynically swing a leg out at Milanov. Somehow, the Frenchman avoids even a booking.
9:29: And Hazard has missed from the spot! A really poor effort from the Belgian who appeared to scuff his effort, allowing Handanovic to get down to his right and make the save.
PENALTY MISSED! (Chelsea)
9:27: Eden Hazard dances into the box and inevitably draws a foul. Referee shows no hesitation in pointing to the spot.
PENALTY - Chelsea
9:26: City down to nine! Toure, who was perhaps lucky not to be shown a second yellow a few minutes ago, loses his head and pushes Eremenko to the ground. The ref doesn't even bother showing the second yellow, it's a straight red. Idiotic from Toure.
RED CARD - Yaya Toure (Manchester City)
9:24: Barcelona and Bayern Munich meanwhile have doubled their leads against Ajax and Roma through Messi and Gotze respectively.
9:22: Toure takes the free kick, looking to replicate his effort from the first half but can't keep this one down as it sails over the bar.
9:20: Aguero takes matters into his own hands and drives across the face of goal, waiting for his moment to shoot. It doesn't come however as Wernbloom pulls his shoulder back. City have the free kick in a dangerous position, and Wernbloom should have been shown a red card for a second yellow! It's a case of mistaken identity however, as the ref books Ignashevich for the foul on Aguero.
9:18: City close! Dzeko springs on a loose pass but Akinfeev just gets to the ball first and slides in to knock the ball away.
9:17: Chelsea are level! John Terry meets a corner with a towering header that may have beend destined for the bottom corner. Matic makes sure of it anyway and stabs the ball home to bring his side level.
Goal! Maribor 1-1 Chelsea (Nemanja Matic, 72)
9:15: Chelsea meanwhile are furious they haven't been handed a penalty after Oscar was felled by the challenge of Arghus.
9:14: Joe Hart breathes a sigh of relief as the resulting free kick narrowly misses the target and hits the side netting.
9:13: City's problems deepen. Fernando's departure has left a lot more room for CSKA to exploit through the middle and they immediately threaten. The Brazilian midfielder is shown a second yellow card for blocking off an attacker who was looking for the one two. The obstruction looked unavoidable, and City are rightfully unhappy with that decision.
RED CARD - Fernandinho (Manchester City)
9:09: Manuel Pellegrini has decided to roll the dice (does he have a choice?) and brings on Edin Dzeko for Fernando.
9:07: Akinfeev denies Milner! Toure pulls a weak clearing header out of the air and tries to thread a ball through from the edge of the box. His ball takes a lucky deflection that brings the ball into the path of Milner, but his stabbed effort on goal is blocked by the outstretched foot of the Russian goalkeeper.
9:05: Milner scurries into space inside the right of the box but appears to get his footing wrong and can't get onto the end of the threaded pass. A bit better from City, but not much. Fernandinho's presence appears to have filled those gaps in midfield but Nasri is yet to have any impact on the game.
9:03: Sporting have taken the lead against Schalke in Lisbon while Shakthar are inflicting more misery on poor old BATE, who are only losing 3-0 tonight.
8:58: Toure tries to dance his way past a posse of CSKA defenders in the box and hits the deck under pressure. He wants a penalty but the referee isn't having any of it. Good call too, there was virtually no contact on the big midfielder as he made his way down.
8:56: Demichelis slides into make an excellent interception, getting enough power on it to free Aguero up the opposite end. The Argentine brings the ball down but Vasili Berezutski slides into make an excellent challenge and poke the ball back to his goalkeeper.
8:54: Maribor lead against Chelsea! Agim Ibraimi cuts in from the right with Filipe Luis slow to react and curls a peach of a shot into the top corner.
Goal! Maribor 1-0 Chelsea (Agim Ibraimi 50)
8:52: An excellent move down the right flank sees Musa burst into space. Demichelis comes across to cover but is beaten with ease. Musa reaches the byline and pings the ball across goal but it's not quite accurate enough to find Doumbia.
8:50: Pellegrini has responded by hauling off Jovetic and Navas with Samir Nasri and Fernandinho coming on.
8:48: And we are back underway across Europe.
8:33: Yet another inept performance in Europe from Manchester City sees them go into half time agoal down against CSKA Moscow with Seydou Doumbia again inflicting the damage. Just the nine goals so far across Europe, here's the latest:
Bayern Munich 1-0 Roma
Manchester City 1-2 CSKA Moscow
Ajax 0-1 Barcelona
PSG 1-0 APOEL
NK Maribor 0-0 Chelsea
Sporting 1-1 Schalke
Athletic Bilbao 0-0 FC Porto
Shakhtar Donetsk 1-0 BATE
HALF TIME
Manchester City 1-2 CSKA Moscow
8:27: As it stands, City are sitting bottom of Group E with just two points. Since falling behind again, they have struggled to find the invention to unlock CSKA with the final ball evading them. The away side are looking, well, rather comfortable.
8:23: Barcelona are finally off the mark in Amsterdam as Cillessen misjudges a Marc Bartra cross, allowing Messi to nod into the back of an empty net.
Goal! Ajax 0-1 Barcelona (Lionel Messi, 34)
8:21: CSKA are back ahead! And it's kamikaze defending again as Clichy foolishly tries to sweep the ball away across his defence, only to find Doumbia on the edge of the box. The Ivorian strides past his marker before slotting past Hart with ease.
Goal! Manchester City 1-2 CSKA Moscow (Seydou Doumbia, 33)
8:18: CSKA gift a corner to City and at the second attempt, they cause a bit of panic in the box as Akinfeev flaps at the cross, but Demichelis can't get enough on the ball to guide it into the back of the net.
8:15: CSKA suddently lose possession on the end of the City box, allowing the home side to break through Toure. Spotting the danger, Wernbloom steps across and takes out the Ivorian and happily takes the inevitable yellow card.
8:13: City still look like they have a bagful of errors in them this evening. Under no pressure Clichy attempts to pass across his own backline with Doumbia lurking. The Ivorian pounces and advances on goal but is eventually crowded out ebfore he can shoot. Moments later Jesus Navas gives the ball away in similarly stupid circumstances.
8:11: Oh dear, what a horrible miss from Chelsea's Andre Schurrle. It's Willian who does well to fire a low ball across Maribor's six yard area. Handanovic dives across to save but can't quite reach, leaving Schurrle free to tap home from three yards out. The German can only slice it wide of the post however and even the raised offside flag can't hide his blushes.
8:09: Toure lofts a ball into the box that Aguero can't reach, but the Argentine is first to the knock down. With no one near offering an option, he turns and powers straight past two CSKA defenders and shoots for the bottom corner, but is denied by the boot of Akinfeev. The resulting corner finds Toure outside the area but his shot easily clears the bar.
8:07: Shakhtar have picked up from where they left off against BATE and score their eighth goal over two games through Dario Srna. Schalke meanwhile have taken the lead against Sporting.
8:04: What a chance for CSKA to make it two! Dzagoev picks the ball up with space ahead of him and finds Doumbia with a wonderful through ball with the outside of his boot that Demichelis can't get near. The CSKA forward is one on one with Hart but pings it wide of the post. Big let off for City.
8:02: City enjoy a few minutes of comfortable possession without doing much with it until CSKA nick it back and launch it forward to Doumbia. The Ivorian tries to cut inside past Kompany but finds no way through, and instead opts for the lay off to Nacho whose effort from the edge of the box veers just over the bar.
7:59: Chelsea meanwhile are already in firm control against Maribor. Didier Drogba came close to opening the scoring moments ago only for Jasmin Handanovic to make a fine effort after the shot took a big deflection.
7:57: It;s absolutely pefect from Toure! The Ivorian curls a beautiful right footed effort over the wall and into the corner, leaving Akinfeev with no chance of reaching it. Brilliant response from City.
Goal! Manchester City 1-1 CSKA Moscow (Yaya Toure, 7)
7:55: PSG have also found an early goal against APOEL this evening through Edinson Cavani, the man who scored the late winner in the same fixture two weeks ago. The former Napoli man was perfectly placed in the box to sweep home van der Wiel's pull back.
7:54: Stevan Jovetic drags the ball past one before he is felled on the edge of the area. Free kick on the edge of the area for City with Toure standing over it.
7:52: Aguero is found in a pocket of space in front of the two centre halves and spots Navas making a terrific run down the inside right channel into space. The Argentine can't dig out the pass quite quickly enough however and when the ball does come to the Spaniard he is unable to keep his shot down.
7:50: There are (officially) no CSKA fans in attendance this evening, the silence when Doumbia's header hit the back of the net was deafening.
7:49: And CSKA have the lead! That free kick was floated into the box where an unchallenged Doumbia has strode into the six yard area to thump home a terrific header, his third goal at the Etihad Stadium.
Goal! Manchester City 0-1 CSKA Moscow (Seydou Doumbia)
7:47: Toure gives away possession allowing CSKA to move forward down the right through Musa, whose cross into the box is blocked by the arm of Clichy. It's a free kick for the away side, out on the right flank.
7:45: Maribor get started against Chelsea while City get the ball rolling against CSKA Moscow at the Etihad Stadium.
LINE UPS
Man City: Hart, Zabaleta, Kompany, Demichelis, Clichy, Jesus Navas, Toure, Fernando, Milner, Aguero, Jovetic
Subs: Caballero, Sagna, Nasri, Dzeko, Mangala, Fernandinho, Boyata
CSKA Moscow: Akinfeev, Mario Fernandes, Vasili Berezutski, Ignashevich, Shchennikov, Musa, Wernbloom, Eremenko, Natcho, Dzagoev, Doumbia.
Subs: Chepchugov, Alexsei Berezutski, Nababkin, Efremov, Cauna, Milanov, Bazelyuk
Maribor: Handanovic, Stojanovic, Rajcevic, Arghus, Viler, Ibraimi, Mertelj, Filipovic, Sallalich, Tavares, Zahovic
Subs: Cotman, Suler, Ndiaye, Mendy. Vrsic, Trajkowski, Bohar
Chelsea: Cech, Ivanovic, Zouma, Terry, Filipe Luis, Fabregas, Matic, Willian, Schurrle, Hazard, Drogba
Subs: Courtois, Azpilicueta, Cahill, Ramires, Oscar, Saleh, Diego Costa
7:28: Man City's luck in the Champions League has shown no signs of changing just yet, but a win tonight will lift them back into second place should Roma fail to beat Bayern. Qualification is still in their hands but Yaya Toure believes a Premier League and Champions League double is still a goal the club must be aiming for.
For us the perfect scenario is going to be both but we know it's going to be difficult but we'll try to do it.

We think we can (win the Champions League) but we need to be more strong away as well as at home. We played a couple of games and we didn't do it. We've had only one win at home and this year is going to be very tough because the big teams are fighting for survival and to be champions.
Touré was speaking to Nissan, the official automotive sponsor of the UEFA Champions League, as part of his role as the car manufacturer's global ambassador.
7:24: Roma are still brushing themselves down after the hammering they received a fortnight ago but manager Rudi Garcia is taken a slightly risky approach this evening in resting three of his big names. Francesco Totti, Miralem Pjanic and Gervinho are all absent from his starting XI this evening.
TEAM NEWS: Kurt Zouma starts in defence for Chelsea with Gary Cahill rested, while Andre Schurrle and Didier Drogba come in for Oscar and Diego Costa in attack.
TEAM NEWS: Manuel Pellegrini has opted for the same XI that triumphed in Sunday's Manchester derby. David Silva remains absent with a knee ligament problem that is likely to rule him out of the meeting with Bayern Munich later in the month.
7:16: After their 7-1 hammering at the Stadio Olimpico last time out Roma are hoping for a tighter contest this evening as they take on Bayern Munich at the Allianz Arena. Elsewhere, Luis Suarez returns to Ajax to make his first appearance in this competition as a Barcelona player while Paris Saint Germain will be looking to tighten their grip on top spot in Group F at home to APOEL.
Tonight's fixtures:
Bayern Munich v Roma
Manchester City v CSKA Moscow
Ajax v Barcelona
PSG v APOEL
NK Maribor v Chelsea
Sporting v Schalke
Athletic Bilbao v FC Porto
Shakhtar Donetsk v BATE
7:10: Manchester City have dug themselves into a hole they must climb out of this evening. A defeat to Bayern Munich at the Allianz Arena is fair enough, all things considered, but a 1-1 draw at home to Roma followed by a 2-2 to CSKA Moscow having held a two goal advantage are the latest in a string of uninspiring performances from City in Europe.
While Roma's hammering at the hands of Bayern last time out kept the group competitive, City must win this evening at the Etihad Stadium to keep their hopes of qualifying for the knock out stages of this tournament alive. A visit to the Eternal City and a final game against Pep Guardiola's powerhouse still await Manuel Pellegrini; three points tonight is a must.
Chelsea on the other hand can seal qualification this evening with a victory away to NK Maribor. Jose Mourinho's side sauntered to a 6-0 win in the reverse of this fixture two weeks ago and with a strong team to play this evening, another three points are expected.