"We're not here to take part, we're here to take over". I remember hearing Conor McGregor shout those words to 9,500 screaming Irish fans at the 3Arena in Dublin and wondering whether or not he actually meant them or if he was just playing up to the hometown fans who adore him.
After all, the man is a master of self-promotion and can whip a crowd – especially an Irish one – into a frenzy faster than he can knock out Jose Aldo. Many fighters before him have made promises of greatness and nearly all of them have failed, yet McGregor has shown time and time again that there is an undeniable truth to his claims of brilliance.
Within three incredible years, the 27-year-old has become the ruler of the MMA landscape and is the sport's biggest star. It's been a meteoric, record-breaking rise to the top of the rankings and he's made it look effortless as he's taken out every opponent put in front of him in devastating fashion.
Sure, there were others before him. Brock Lesnar was a gigantic pay-per-view draw who demanded attention because of his past with the WWE and Ronda Rousey will always be someone who fans are intrigued by and interested in watching even if she doesn't have a belt wrapped around her waist. But, unlike them, we've yet to see a chink in McGregor's armour.
No one in the sport has ever managed to make more of a statement in such a short amount of time and he truly is the mainstream star the UFC have always wanted. However, with stardom comes a target on your back and "Mystic Mac" has a huge one on his with an abundance of sharpshooters aiming at it. This is why his next fight is the biggest gamble of a magnificent career.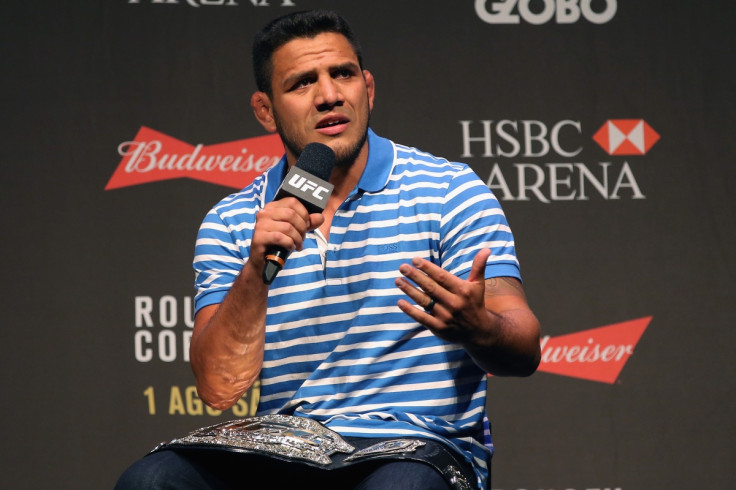 Instead of defending his recently won UFC featherweight title, McGregor has decided he wants to add another strap to his collection by taking on lightweight champion Rafael dos Anjos. It's not something we see a lot in the UFC, simply because the stars rarely align long enough for a situation like this to happen. Yet McGregor's insatiable appetite to becomes the most successful fighter the UFC has ever seen has brought him to this very moment.
Dos Anjos is far from a walkover. In fact, he poses a bigger threat to McGregor's reign than anyone the Irishman has faced before, even if he will try to convince fans that the champion is just a "bum version of Jose Aldo". Dos Anjos's seven-year run in the UFC has been a roller-coaster ride that is currently at its peak.
He's gone from a top-20 fighter who made up the numbers in the UFC's lightweight division to being one of the most devastating fighters at 155lb (70kg). Top contenders such as Donald Cerrone, Anthony Pettis and Benson Henderson have all been crushed by the Brazilian recently, yet none of them have been quite the monster that McGregor has become.
In terms of fighting, McGregor's legacy is already in the history books. You don't knock out Aldo in 13 seconds and never be spoken of again. Now the question is, how bright can his star shine and how much money can he earn during his MMA journey?
He's the first fighter in sport who could potentially earn the same amount as Floyd Mayweather Jr did whenever he fought. Yet it seems unlikely he will suffer the same sort of pitfalls that Mayweather has, meaning he could possibly become an even more viable star than the boxing legend.
McGregor has it all in front of him at the moment. The money, the belts, the legacy and the fame. It's clear the McGregor Era is in full swing but with him willing to take more and more risks to be known as the greatest, it's just a question of how long it will last.