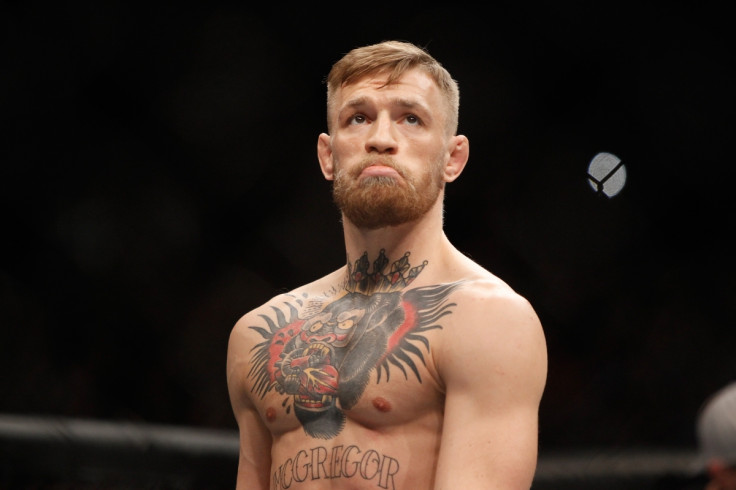 Conor McGregor gave a characteristically confident and brash performance at the first press conference held prior to UFC 197 on 20 January. The undisputed featherweight champion moves up to the 155lbs division to challenge lightweight title-holder Rafael dos Anjos in Las Vegas in March, three months after blitzing Jose Aldo inside 13 seconds to hand the former pound-for-pound king his first loss in a decade.
Arriving 30 minutes late for the event at MGM Grand, the outspoken Irishman denied that his tardiness was an attempt to secure any sort of leverage over the UFC after previous rumours had suggested that there may have been tension developing between the two parties regarding a new contract.
"No, business is phenomenal," he said. "All you got to do is look back at last year for myself and the company. There was nothing about time-keeping, I apologise for my tardiness. I do not wear watches to tell the time. I operate on my own time."
After that stunning knockout of Aldo, McGregor was certainly not short of options in terms of selecting his next opponent. His decision to move up a division may be seen by some as a risk, but the thought of becoming the first fighter in UFC history to hold two world titles at once is clearly a huge motivating factor.
"I chose this one because I came into this promotion as a two-way world champion and I had always wanted to replicate that. That was the goal, to continue to create history. This man across from me has a title. He has nothing else but that, he is a free TV fighter. He has nothing else to offer me except that gold belt. That was the simple decision."
"Listen, cut out all this other stuff and I'll go through the whole roster in four months," McGregor later exclaimed. "I tell you that right now, I'll whip every single one of them inside four months. Bring me in, weigh me in, and I'll fight the next night and wipe out the entire game inside four months."
When asked if he could also potentially be ready to fight at UFC 200 in July, he replied: "I'll be fresh after 197. I believe I will dust Rafael inside one minute. He is a slower, sloppier version of Aldo.
"He's like a bum version of Aldo. I believe inside one minute I will dust him, I will exit the contest fresh and cash the cheque and sign the contract for UFC 200 at the brand new MGM and we'll go again. 2015 was my year and 2016 is also my year."
In contrast to his brazen opponent, Dos Anjos remained relatively reserved throughout the press call. The Brazilian provided the first defence of his own title with a technical knockout of Donald Cerrone in Orlando last month and is confident that he will be the man to stop the McGregor juggernaut.
"He's a smart guy," he said. "He doesn't want to put his featherweight belt on the line, because, if he loses, he doesn't have anything... I'm going to beat him and send him back to 145lbs.
"I'm not a trash talker. I respect my opponents. I don't trash talk, I just talk the truth. On March 5, I will send this guy back home sad and I'm going to keep my belt."
Also on the agenda at UFC 197 is the small matter of an enticing co-main event between Holly Holm and Miesha Tate for the women's bantamweight championship. Holm won the belt with a shocking victory over the previously undefeated Ronda Rousey in November. Corey Anderson is also scheduled to face Tom Lawlor, Erick Silva meets Nordine Taleb and Darren Elkins takes on Chas Skelly. There is also a lightweight clash between Diego Sanchez and Jim Miller.
Full coverage of the entertaining press conference, featuring Dos Anjos, McGregor, Tate and Holm as well as UFC president Dana White, can be found here