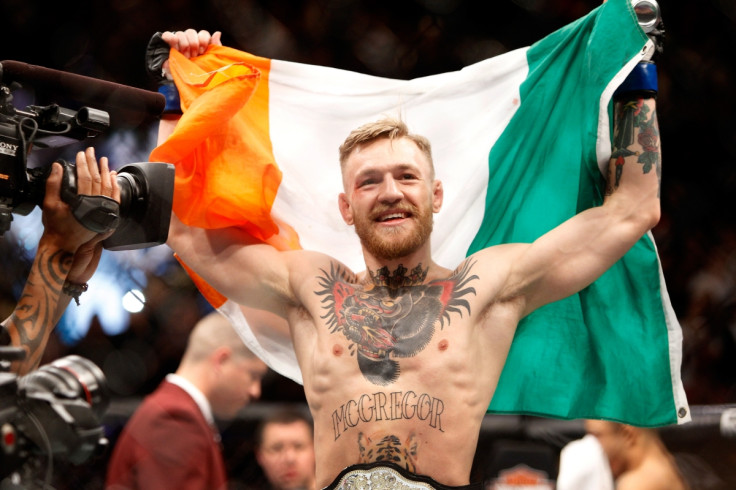 Ultimate Fighting Championship (UFC) superstar Conor McGregor has revealed that the 'first eight minutes' of the fight with Nate Diaz were easy as he looks forward to a potential rematch against the American. The Irishman is confident of beating Diaz in the rematch whenever it takes place.
McGregor suffered the first loss of his career at UFC 196 when the American ended his unbeaten streak beating him via submission and since then the pair have renewed their feud over social media. The duo were supposed to face off in a rematch at UFC 200 but the clash has since been scrapped.
"The first eight minutes of the fight were easy; let's be honest I slapped the head off him. Once the gas tank went, that was it. I drowned. He landed that one punch that rang the bell and went, [gasp,] I'm back. He was close to being done. One or two more shots and he would have been wrapped up," McGregor told ESPN.
"Swinging on gymnastic rings on fight week isn't the best thing. Usually, I wrap myself in bubble wrap and only do fight-specific things, but because of that weight, no weight cut, I had put in my head that, 'I'm free.' I had energy to burn. I was doing so much bounce footwork, the balls of my feet were burned to a crisp. Looking back, it was ridiculous. I don't know what I was thinking."
The current featherweight champion has not ruled out a return to the 145-pound division though, saying he might just come back and defend his belt. The 27-year-old said he had achieved the maximum he could at that division and that going up to 170 pounds was the only way forward.
"I wanted to have my revenge at 170. The division was killed, it was dead. Jose went down in 13 seconds. What more can I do? I travelled the world with that man. I finally got him in the Octagon, and he only lasts 13 seconds. I didn't see a challenge there anymore, so I wanted to create interest from a fan perspective and my perspective. "