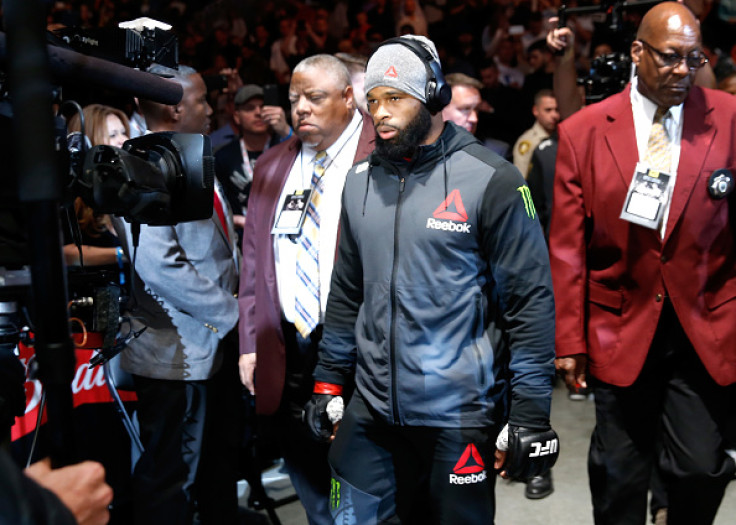 UFC welterweight champion Tyron Woodley is convinced Conor McGregor wants nothing to do with any of the top guys in the company.
McGregor has been taking time off ever since winning the lightweight title from Eddie Alvarez at UFC 205, as he is not only expecting the birth of his first child in May but is actively pursuing a big money fight with Floyd Mayweather.
This has led to criticism of the lightweight champion as certain sections of fans and the media want to see him compete and defend his title in the octagon rather than chase Mayweather.
Woodley — who had a confrontation with McGregor at UFC 205 sparking interest in a potential welterweight bout between the two — believes the Irishman does not want to fight him or any top lightweight contenders like Tony Ferguson or Khabib Nurmagomedov.
"We know Conor don't want it [a fight with me]," Woodley told TMZ Sports. "Conor ain't nothing. Conor is now in a position where he would have had to fight somebody real. He would have had to fight me, Tony Ferguson or Khabib."
"He knows we're not a good matchup for him, we're not going to fall into his antics, him talking crap, it's not going to bother us. He knew he had to make a choice. His best option is to get the Floyd fight, take the L, walk away in the wind with $70 million and remain a legend in MMA."
Woodley also went on to slam UFC president Dana White for his comments following the main event of UFC 209. White revealed he scored the win for Stephen Thompson and even said "Woodley did absolutely nothing."
"Dana White thought I won the first fight but he didn't publicly come out and say I won the first fight," Woodley added. "So I thought it was a bit distasteful for the promoter to say he thought he [Thompson] won a fight."
"That's like me coming out as a fighter and saying 'I didn't think you did a good job of promoting the fight' which I don't. I don't think they did a good job of promoting me as champion. I'm gonna fall back, do my thing but goddamn, I'm going to be a tough dude to deal with."