Ultimate Fighting Championship superstar Conor McGregor is a "one-off" and may never be matched in the sport, according to MMA fighter Joe Cummins. The Irishman is the biggest name in the UFC with a net worth of $22m and continues to chase a cross-code clash with boxer Floyd Mayweather Jr.
The 28-year-old's record of 21 wins from 24 bouts, which includes the fastest finish to a UFC title match when he knocked out Jose Aldo in 13 seconds, has helped him become the sport's first genuine global star. Last November, he cemented his status as the king of MMA with victory over Eddie Alvarez, becoming a two-division champion.
Attempts to agree a fight with Mayweather, as well as his association with the unbeaten American, have helped further swelled his profile. The explosiveness of McGregor's performances are often matched by his x-rated put-downs, which create eye-catching headlines. And Cummins believes his fellow countryman's notoriety can be attributed as much to his performances outside the Octagon as inside.
"I believe Conor McGregor is a one-off," he told IBTimes UK. "A lot of what he has created, his mouth has got him to where he is. The money he's made out of MMA, the next 500 or 1,000 guys who go in the UFC won't make as much money as him. MMA is a poor man's sport.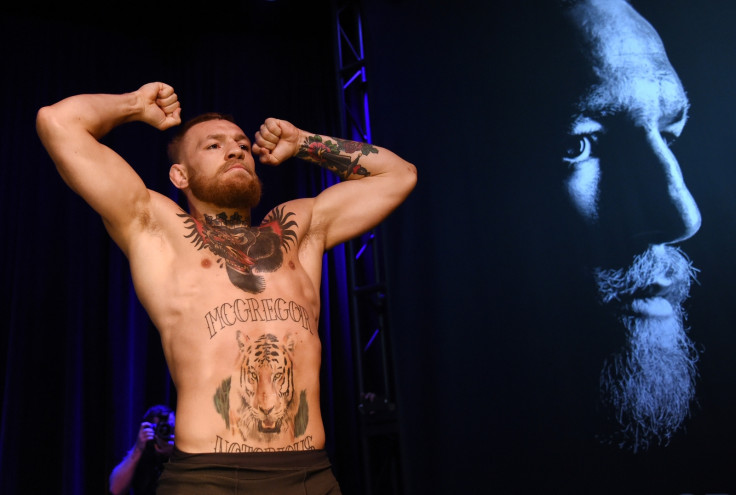 "When he started out, as everyone knows he was on the doll, he had to walk to the gym or pay his bus fare. You're looking for sponsors and you can't get no sponsors. Now he's made it everyone wants to jump on the bandwagon."
Alongside his MMA career, which is set to resume later this month after three wins from his first four bouts, Cummins runs the Ultimate Training Centre – a sophisticated facility out of Birmingham that is helping to honing the skills of the next batch of Britain's fighting stars. Though McGregor has set the bar regarding what is possible in the sport, Cummins believes the Dublin-born fighter has built the template for success.
"If people believe in themselves and believe they can do what he's done then all I can say to them is that it is hard work," the 28-year-old added. "You've got to dedicate yourself, this is your work. You've got to come in the morning, come in the afternoon, come in the night.
"You have to sleep fighting, you have to eat fighting. You've got to be obsessed with it, because that's what he's been doing. Now he [McGregor] has made it he's got the fruits of what he's put in but for all the ones that make it, there are probably 500 that don't. It is hard work but if you feel like you've got that desire inside you then we're the best place for you to be because we can help you get there."