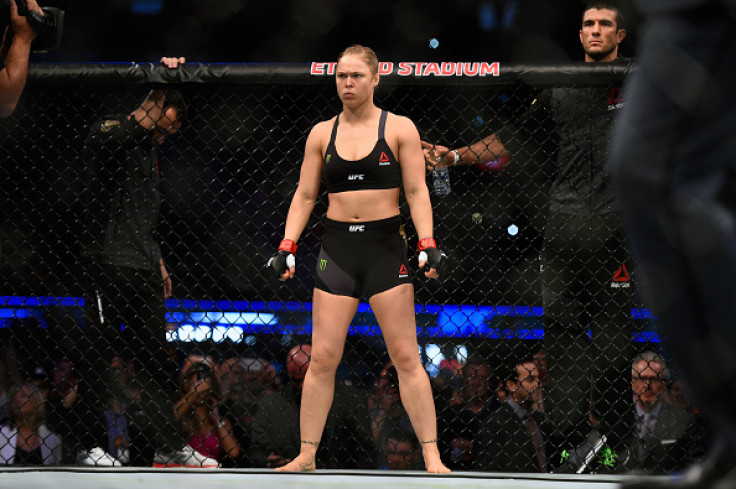 Ultimate Fighting Championship (UFC) bantamweight champion Miesha Tate has taken a dig at Ronda Rousey once again, saying 'she's currently the worst version of herself'. Tate is desperate to fight Rousey after losing both the encounters against her in the past.
The former bantamweight champion Rousey who is one of the biggest superstars of the sport hasn't fought or entered the Octagon since getting knocked out by Holly Holm at UFC 193 last November. There were rumours circulating of her potential return at UFC 205 but such talk was quashed by president Dana White who himself has revealed he has no clue as to when she will be back.
Tate feels she is ready to beat Rousey when the Mixed Martial Arts (MMA) star eventually decides to return to the ring.
"I don't know how. I don't know exactly what I'm going to do, but I know I am the strongest that I have ever been. Here I stand at the best moment of my career, the most confident that I've ever been, the best version of Miesha Tate and she's at the worst," Tate said as quoted by Fox Sports.
"She's at the lowest point of her career. I think she's second-guessing whether or not she even wants to be in it, talking about retirement, contemplating that or saying she's only going to come back for one fight, and fight me."
The 29-year-old who will be seen in action on 9 July at UFC 202 where she will defend her title against Amanda Nunes has been in brilliant form over the past two years, winning five straight fights including a career-defining fifth round win over Holly Holm which helped her win the bantamweight title. Tate feels her twin losses to Rousey early on in her career really helped her become the fighter she is.
"I know that when I've gone through the toughest of tough times, I've been head kicked and knocked out, before. I've lost to Ronda, twice and that was the most devastating thing that could have ever happened to me inside my career. But here I am, I have made myself better for it. I've made myself stronger. I don't recognize that in Ronda. I don't recognize the same desire, the same drive, the same passion, the same willingness to overcome that kind of adversity. I don't see that in her," she added.