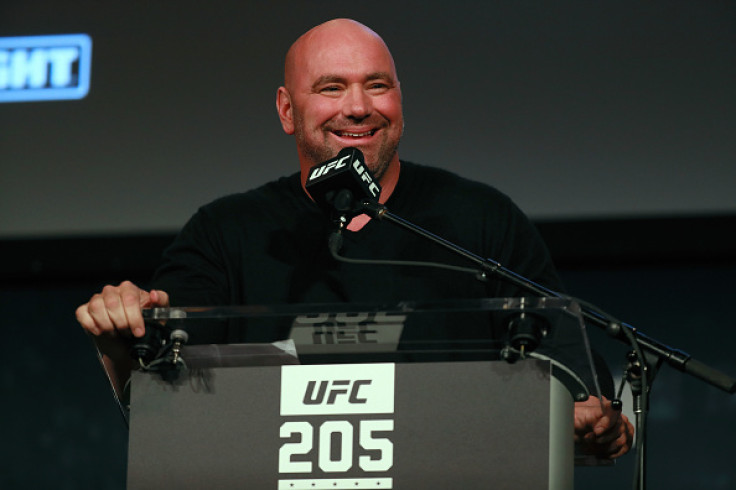 Ultimate Fighting Championship (UFC) president Dana White has revealed he is not in the business for money and is only here to do great things for the company and make big fights. The UFC company was recently sold for $4bn (£3.09bn) to a group of owners — Silver Lake, which also owns WME-IMG, Kohlberg Kravis Roberts and Michael S Dell.
White, who along with childhood friends Lorenzo and Frank Fertitta, had bought the UFC company for $2m (£1.5m) in 2001. While the Fertitta brothers sold their shares, White remained as president running the day-to-day operations of the company.
The 47-year-old whose 9% equity share in the company would have made him a good amount of money has reiterated that he is in the world of Mixed Martial Arts to help make it bigger.
"I'm telling you, I don't even think about it. You know what I have bought since? I didn't buy anything. I bought nothing. I definitely haven't been on vacation. You know what I mean? I'm not running around, thinking about my money. I'm running around thinking about what's next", said White, as quoted by Sci Fighting.
"And it's true, very much for me, it's not about the money. It's about the ride. It's about doing great things. I'd already made more money than I ever thought I'd make in my life. There are some guys, and I'm not this guy, there are some guys who are so driven by, 'I've got to make a billion. I want to be on the Forbes list.' I'm not that guy."
White has been present during the phenomenal growth of the UFC since its inception. With the recent UFC 205 event at Madison Square Garden breaking all records for the company in terms of pay-per-view buys and gate receipts, it is a company that is on the rise.
"I'm not about the money. I don't care about the money. I'm not about this. I'm about Saturday night. You know what I mean? I'm about making big fights. It has nothing to do with money. Don't get me wrong, I love that we broke the gate record at MSG, that's the (expletive) that I'm in it for. I like breaking records. I like making big fights. I like people going crazy over the fights we build. I'm not in it for the money", the UFC president added.