Jose Aldo ripped into Conor McGregor during a recent interview labelling him a 'piece of s**t' while also talking about his proposed fight against Floyd Mayweather.
The Brazilian veteran suffered his only Ultimate Fighting Championship (UFC) loss at the hands of the Irishman in December 2015 when he surrendered his men's featherweight title after 1,900 days as champion. McGregor's career sky rocketed after his 13-second knockout win over Aldo following which he went on to capture the lightweight title beating Eddie Alvarez to become the first man in the sport's history to hold two-weight titles simultaneously.
"The Notorious" as McGregor is popularly known is UFC's hottest property at the moment and following his achievements in the octagon, he has now shifted his focus to boxing and challenged retired boxing legend Mayweather to a fight.
Talks about a mega-money fight has been doing the rounds in recent weeks with both fighters engaged in a bitter social media feud, however Aldo believes only UFC has the power to make it happen owing to McGregor's contract with them.
"It will never happen. This will only happen if the UFC wants to. It could be against Mayweather or anyone else, if a fighter has a contract with the UFC, nobody can go over the UFC," Aldo said, as quoted by the Daily Mail.
The 30-year-old Brazilian did not stop there and attacked McGregor's reputation outside of Ireland. The UFC lightweight title holder has been accused of not being a true champion in the past as he has failed to defend any of the titles he has won thus far.
"McGregor's reputation is already bruised. The only ones who like him are the Irish people, no one else.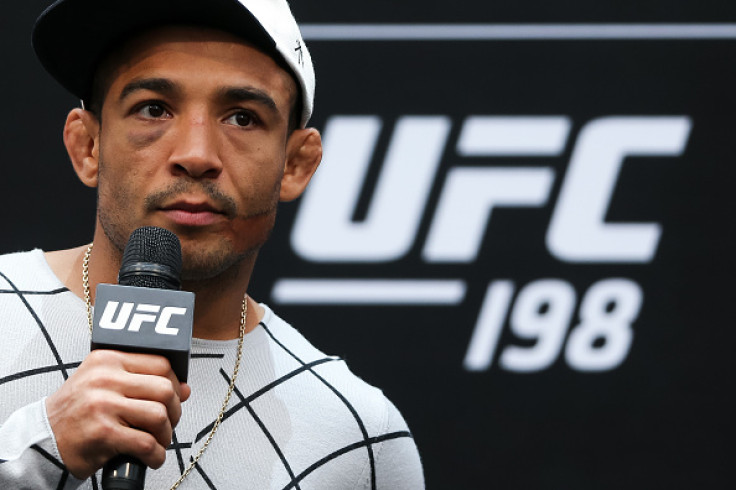 'If you ask in Brazil or in any other country, nobody cheers for him, no one considers him a champion, they always consider him a piece of s**t," he explained.