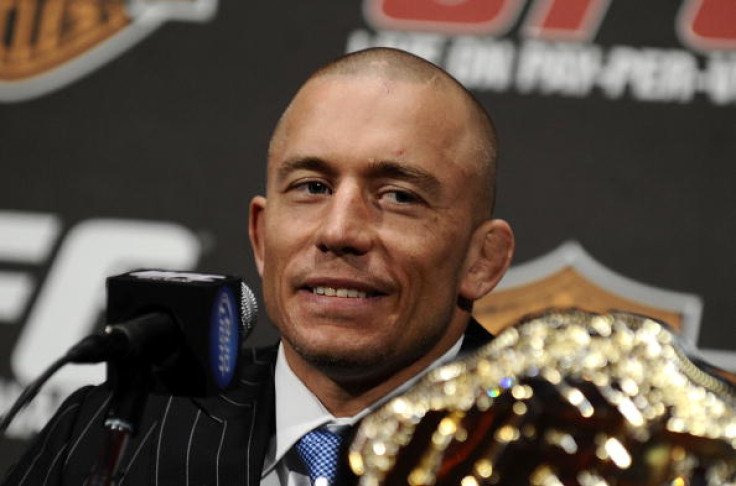 Georges St-Pierre is on the cusp of a UFC return as he is close to signing a multi-fight deal with the company, according to reports.
MMAFighting citing sources said that the former welterweight champion, who vacated his belt in in December 2013 following a controversial split decision win over Johny Hendricks, has reached an agreement with the company.
St-Pierre had said that he needed to take time off from the sport and did not return for three years, during which both parties had been trying to reach and ne deal.
However, there is no official confirmation about the fighters return as yet.
In December 2016, St-Pierre sought to discuss a new deal with the company to fight at UFC 206 in Toronto, Canada, but the deal fell through.
According to MMAFighting, the Canadian fighter could make his comeback to the octagon sooner rather than later, as sources said that a new deal has been agreed to.
While St-Pierre – who was on a 12-fight winning streak before he left the company – does not have an official return fight, he may be seen in the octagon in the third quarter of 2017.
The 35-year-old's return opens up some interesting potential matchups. St-Pierre is yet to fight many of the current big names in the welterweight division like champion Tyron Woodley and the likes of Stephen Thompson, Demian Maia and Robbie Lawler.
The Canadian has also been challenged recently to a super fight by Anderson Silva while St-Pierre has previously expressed interest in a middleweight bout with current champion, Michael Bisping – who is level with him for most wins in UFC history (19).
Bisping himself said he would prefer fighting "GSP" over current middleweight contender Yoel Romero as it would be a bigger payday for the Briton.
No matter who St-Pierre fights against, his return is a welcome sight for the UFC as it is in dire need of stars with Conor McGregor chasing Floyd Mayweather, Ronda Rousey's possible retirement and the current suspension of Jon Jones.