The Catholic Bishop of Arundel and Brighton, Rt Rev Kieran Conry, has resigned after bringing "shame" on his diocese and being "unfaithful" to his vows.
The Mail on Sunday alleges he has had affairs with two women, one of them a married woman who spent several nights at his cottage in Sussex.
In a statement to be read out in church today Bishop Conry said: "I am sorry to confess that, going back some years, I have been unfaithful to my promises as a Catholic priest. I would like to reassure you that my actions were not illegal and did not involve minors.
"As a result, however, I have decided to offer my resignation as bishop with immediate effect and will now take some time to consider my future."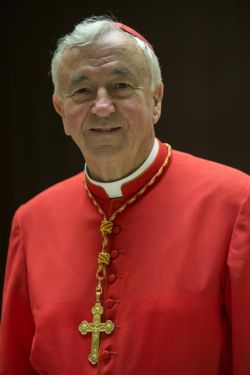 Catholic priests are forbidden from having any form of sexual relationship. Although it is unclear if either of the two alleged relationships were sexual, the Bishop clearly felt he had no alternative other than to resign.
"I want to apologise to the individuals hurt by my actions and then to all of those inside and outside the diocese," continued the statement. "I am sorry for the shame that I have brought on the diocese and the Church and I ask for your prayers and forgiveness."
As chairman of the Roman Catholic church's evangelisation committee, Bishop Conry is seen as a progressive and is close to Cardinal Vincent Nichols, the head of the Catholic Church for England.
Conry has met homosexual Catholics, and said noisy children should be tolerated in churches to encourage families to attend.
Reacting to the shock resignation, Cardinal Nichols said: "This is a sad and painful moment. It makes clear that we are always a Church of sinners called to repentance and conversion and in need of God's mercy. All involved in this situation are much in my prayers today."