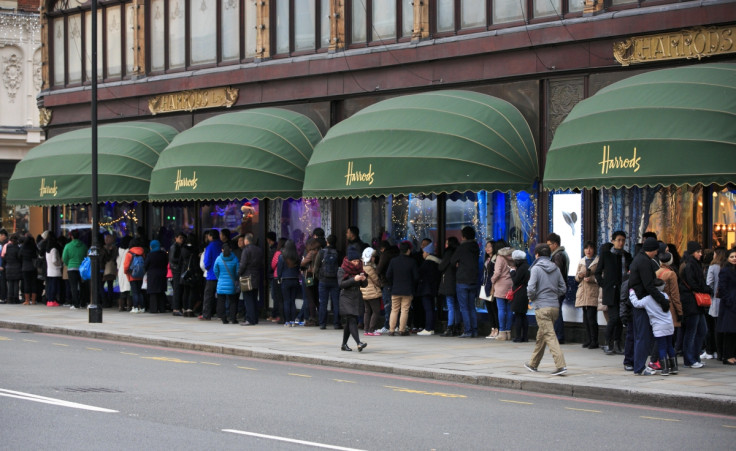 Consumer spending in the UK grew at the fastest pace in nearly two years in November, helped by a surge in online spending.
Household spending climbed 3.2% compared to a year earlier, the biggest rise in 22 months, a report from Visa and Markit said.
Online spending jumped 12.5% during the month, the fastest pace recorded since the series began in 2009.
In contrast, spending on the High Street declined 1.4%.
The figures were calculated by adjusting credit and debit card transactions for a variety of factors to create a comparison of overall consumer spending, not just that on the cards.
"The Christmas shopping season got off to a good start for consumers and retailers alike," said Kevin Jenkins, UK & Ireland managing director at Visa.
"Overall spending growth in November accelerated to a 22-month high as consumers made the most of the promotions around Black Friday and Cyber Monday.
"The shopping season seems to have started earlier this year too, as we saw solid spending growth rates in the weeks leading up to Black Friday."
Spending in the recreation and culture sector saw the steepest rate of increase in November at 9.3%.
Solid growth was also recorded in household goods and transportation & communication.
Slower increases in expenditure were seen in hotels, restaurants and bars, food and drink, and clothing and footwear categories.
Annabel Fiddes, economist at IHS Markit, said: "Whether this strong performance can be sustained into December and beyond is increasingly unclear.
"Notably, consumer confidence has declined in each of the past two months, while forecasts of rising inflationary pressures and unemployment in the next year are all likely to weigh on expenditure growth going forward."
A separate report released by the British Retail Consortium on 6 December showed that UK retail sales increased by 1.3% in November, a slowdown from a rise of 2.4% in October.