The UK economy grew in line with expectations in the first three months following the European Union referendum, official figures released on Friday (25 November), showed.
According to the Office for National Statistics (ONS), Britain's gross domestic product (GDP) grew 0.5% on a quarterly basis in the three months to the end of September.
The reading was in line with expectations and unchanged from the preliminary estimate released last month.
Meanwhile, the year-on-year reading was also unchanged, showing Britain's economy expanded 2.3% in the third quarter, up from the 2.1% reading recorded in the corresponding period in the previous year.
The report comes just two days after Chancellor Philip Hammond delivered his first Autumn Statement, indicating the Office for Budget Responsibility forecast economic growth of 2.1% for 2016 and 1.4% in 2017, down from an initial estimate of 2.2%.
The UK economy is forecast to expand 1.7% in 2018, rather than the expected 2.1% and by 2.1% and 2.0% in the following two years. The original forecast for 2019 and 2020 called for growth of 2.2% and 2.1% respectively.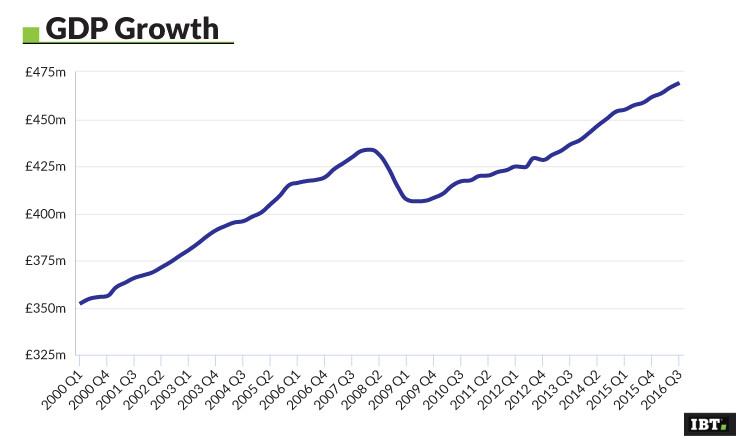 James Hughes, chief market analyst at GKFX said the figures will allay some of the lingering fears over the state of the UK economy.
"The biggest worry for the GDP in the UK and the economy is a whole is the uncertainty that Brexit brings with it," he said.
"Article 50 is still expected to be triggered by the end of March, however there is absolutely no way to determine what kind of deal the UK will get, and how the subsequent trade deals will impact the growth. With this in mind it's incredibly important for the UK economy to perform well before this time and a reading of 2.3% year-on-year goes a long way to settling many ahead of the uncertainty of the next 18 months at least."
The new expenditure breakdown showed business investment surprisingly rose by 0.9% quarter-on-quarter, compared with forecast calling for a 1% decline and underpinning a 1.1% increase in total investment.
However, Samuel Tombs, chief UK economist at Pantheon Macroeconomics, warned the resilience could be short-lived.
"The slump in indicators of firms' investment intentions since the start of the year, however, suggests that this strength will not persist," he said.