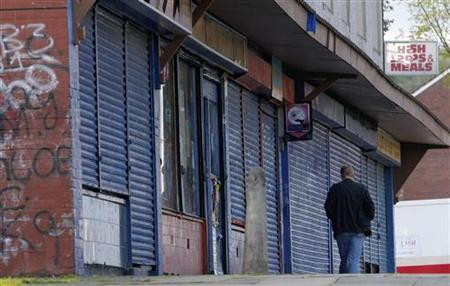 The number of empty shops in Britain increased in every region except London between January and June 2012.
The report, based on research by Local Data Company (LDC), revealed that an average of 14.6 percent shops remained vacant during the time mainly due to falling consumer spending, rising online sales and retail space expansion.
Reuters reported that retailers have closed weak performing outlets while muted wage growth, government austerity measures and declining consumer demand have forced some others to shut shop.
The northwest took the biggest hit with 20.1 percent shops remaining empty while London fared the best with the number of vacant shops down to 10.1 percent during the period from 10.7 percent in July to December 2011.
The capital remained the only region that showed a decline in empty shops in the country and retail parks showed the lowest overall vacancy rate at 8.1 percent.
"Normal service is unlikely to be resumed any time soon as far as retailers are concerned," said LDC.
"For the high street, and especially for secondary shopping centres, it is clear that the current high levels of vacancy are likely to remain."
The Daily Mail said that based on the research, 15,000 high street shops had shut down from 2000-09 while another 10,000 closed down in 2010 and 2011.
"Our towns face complex structural problems that are not going to be solved by tinkering around the edges," chief executive of the British Property Federation, Liz Peace, said.
"In many places, we need to have a complete rethink about how vacant property could be redeveloped into new uses."
"That will require flexibility on the part of local planning authorities, but equally an acceptance from the property industry and its investors and lenders that in many cases previous values simply cannot by maintained and new lower value uses are the only option," she added.
The BBC also reported significant criticism against LDC's methodology. The Association of Town Centre Management accused the research firm of using an outdated system of marking town centre boundaries which failed to provide an accurate picture of the situation.