UK faces risk of increasing annual flood damage costs by 25%
Researchers of the study state that the "current governance is not enough" and "flood risk needs to be a bigger international priority."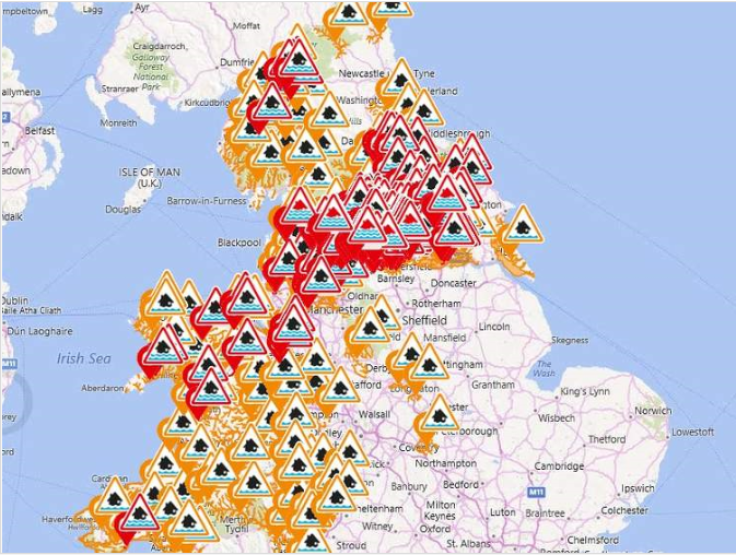 Bates and Wing's climate model predicts that there will be a 25 per cent increase in the annual amount of damage from floods in some parts of the UK. At present, flood damage costs the UK approximately £700 million each year.
Researchers Paul Bates, Oliver Wing, and their colleagues from the University of Bristol made a modelling study that simulates water flow over land surfaces. With the help of Fathom, a company that provides "high-quality flood risk intelligence," the study was created to show how climate change could provoke all types of flooding up to 2070.
Information on the terrain, river flow, rainfall patterns, and sea level was used to create the flood risk map, detailing how much flood damage there would be in different locations across England, Scotland, and Wales. This is also the "first-ever data set to assess flood hazard using the most recent Met Office climate projections, which factor in the likely impact of climate change," Fathom reports.
The research team estimated the potential cost of flood damage based on insurance data on property values in areas that are both currently and possibly at high risk of flooding. "This study, which harnesses new data and the very latest modelling techniques, validates Fathom's UK Flood Map and has given a new level of insight into the impact of climate change on flooding in (the) future. The modelling provides clear evidence that flood risk needs to be a bigger international priority and that current governance doesn't go far enough," Wing stated in an interview.
The study also shows that if the COP26 and Net Zero promises are not met collectively, the annual cost of flooding in the country could grow between 13 per cent and 23 per cent in the next century, depending on different levels of extreme climate projections. Bates, also the Chairman of Fathom, mentioned that "the results are a timely warning to the country's political leaders and business sector that global commitments to significantly reduce carbon emissions must be taken very seriously, and ultimately take effect, in order to mitigate increased losses due to flooding."
The flood risk maps highlight the places in the U.K. where risks will increase most rapidly, even under best-case scenarios wherein global warming is limited to 1.8 degrees Celsius. Some locations are South East England, South Wales, North West England, and Central Scotland. Densely populated cities like London, Cardiff, Glasgow, Edinburgh, and Manchester are also at risk of damage increases of more than 25 per cent.
Calder Valley, located in West Yorkshire, is one of the areas particularly at high risk of flooding caused by heavy rain. Katie Kimber, a member of the community volunteer group Slow the Flow, explained how the steep-sided valley showed signs that run-off swelled the river quickly. Kimber, in an interview with BBC News, mentioned, "when it happens it's really fast - it's a wave of destruction. Then it's a case of clearing up the damage - it's mentally and physically very hard for people here."
In fact, during the 2015 Boxing Day floods, more than 3,000 properties were damaged due to flooding in the Calder Valley, leading to an estimated £150 million worth of damage. Calderdale is also a flood hot spot on the created flood risk map.
The researchers expressed their hopes that the detailed forecast would help change the U.K.'s current state of its insufficient adaptation management to the flood risks it currently faces, among the other effects of climate change. One example of the many consequences of climate change is the record-breaking number of heatwaves the country faced last year, which was also proclaimed the U.K.'s hottest year.
The researchers also plan to produce analysis for other countries across the globe to deepen further the understanding of how climate change is likely to affect flood risk globally. This would be highly beneficial to countries like the Philippines, a country that experienced a massive flood incident on Christmas Day last year, forcing nearly 46,000 people to evacuate from their homes.
© Copyright IBTimes 2023. All rights reserved.