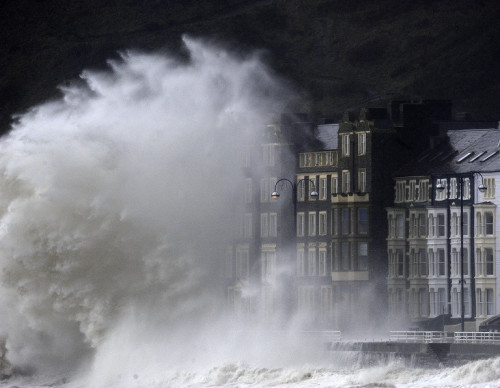 Parts of the UK continue to be at risk of flooding as more heavy rain is expected on Sunday.
The Environment Agency has issued 79 flood warnings and 117 flood alerts across the country.
Britain has been battered by violent storms since Christmas and despite conditions easing, some rivers are still at risk of bursting their banks.
Counties still on flood alert include Wiltshire, Hampshire, Dorset, Somerset and across the Midlands.
Rivers including the Hampshire Avon through Wiltshire, Hampshire and Dorset, the Stour in Dorset, the Parrett in Somerset and the Severn through the Midlands show little sign of receding.
Environment Secretary Owen Paterson urged the public 'to remain vigilant' at a Cobra meeting, the Government's emergency committee, on Saturday.
He said: "River levels continue to rise and remain high in some areas, particularly parts of the Thames. I have chaired another Cobra meeting to ensure that the Environment Agency, local authorities and emergency services are well prepared to continue supporting those at risk."
He said the government was "continuing to focus on flood protection and support for those affected".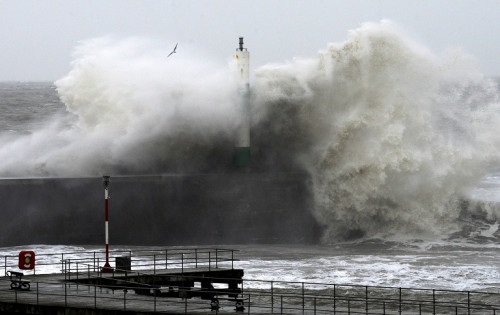 Eight people have died and more than 1,700 homes and businesses have been flooded in England since the start of the Christmas period, with around 550 properties flooded since the New Year. Some 140 properties have been flooded in Wales.
Met Office forecaster Helen Roberts said more heavy rain is due from Sunday.
"There's going to be a band of rain coming from the west in the afternoon. It'll be over south-west England from midday and spread slowly eastwards across the rest of the country."
But she said that although there might be some "moderate to heavy bursts", no significant amounts of rain were expected until Wednesday.
Body found at sea
On Sunday, police said coastguards had discovered a body in the sea in the search for missing photography student Harry Martin, but that it had not yet been identified.
The 18-year-old left his home in Newton Ferrers, Devon, on 2 January, to take pictures of the stormy sea.
In Aberystwyth more than 200 residents volunteered for a three-and-a-half-hour clean-up of the town's promenade, which was severely damaged by storms.
Councillor Ceredig Davies, who represents central Aberystwyth, said: "We used buckets and spades and wheelbarrows to put the sand back from the promenade, where it was washed in the storms.
"There were thousands of tonnes of sand there and the volume shifted by people today was hundreds of tonnes.
"It was great community spirit. It was back-breaking work but everyone felt that they had achieved something. They felt like they were doing their bit in putting our promenade back to how we like it."
Cameron visits Yalding
Hundreds of residents in Yalding in Kent were without electricity over Christmas after their homes were flooded. Prime Minister David Cameron paid a visit to see the scale of the damage and offer his support to the community.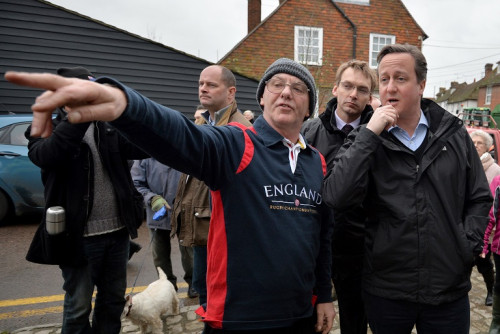 Jenny Scott, 70, of Benover Road, Yalding, was flooded on Christmas Eve, and said she was sorry that Cameron had missed the flood water's peak.
She told the Kent and Sussex Courier: "I think they wanted to involve people like David Cameron for money for flood protection. But I think now the water had gone, it seemed like putting the cart before the horse.
"He didn't see it when it was totally full or water. We didn't see a car for 48 hours or more, it was boats or nobody came."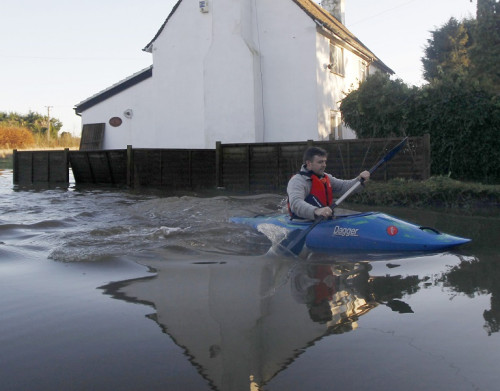 The Environment Agency said more than 239,000 properties have been protected by flood defences.
Craig Woolhouse, head of flood incident management, said: "The River Thames is continuing to respond to the recent rainfall. Communities along the River Thames in Surrey should remain prepared for further flooding. River levels will remain high for the next few days and we urge people to keep up to date with the latest flood warnings and take action.
"With so much standing water around, we would also remind people to stay out of flood water and not attempt to walk or drive through it."
Those in areas at risk should check the Environment Agency website for the latest information and sign up for free flood warnings or call the Environment Agency Flood Line on 0845 988 1188.