The UK games industry is in decline and the country's talent is moving abroad as jobs are lost, according to a PHD researcher.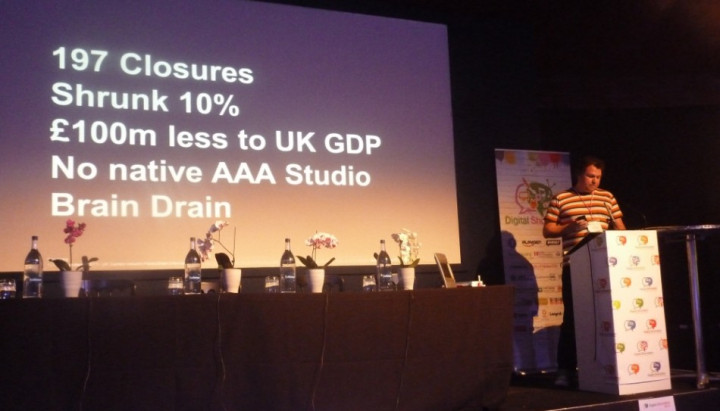 "There is a serious erosion," said Chris Lowthorpe, who works at the Centre for Excellence in Computer Games Design at the University Of Abertay in Dundee.
"Once third biggest globally, the UK games sector has now been overtaken by Canada and it is being threatened by many other nations such as France and Germany. That doesn't take into account anything happening in Asia."
Lowthorpe said that research released by the Independent Games Developers Association showed that between 2008 and 2011 216 new studios opened in the UK.
"This isn't the full story. The UK games industry is actually being eroded," he told the audience at Digital Shoreditch's Play series of discussions.
He said that between 2008 and 2011 in the UK there were 197 studio closures. That resulted in the sector shrinking by 10 percent and contributing £100m less to the UK's GDP.
"There is no longer a native AAA studio in this country. There are AAA studios such as Crytek but they are not actually UK owned," said Lowthorpe, who also represents the Institute for Capitalising on Creativity at the University of St Andrews.
He pointed to the industrial model often applied to game design as one of the problems the industry faces.
Currently, different departments work on different elements of a game to create a whole - like a car moving down a production line in a factory.
"This has led to a lot of problems. Often it takes a long time to develop these projects and by the end of it there's no longer a customer for it," he said.
"A classic example of that is the Realtime Worlds case in Dundee where it was a major studio that spent far, far too long working on a game that at the time seemed like a great idea. By the time they took it to market nobody wanted it. That led to 300 people losing their jobs."
He also noted that the loss of jobs in the UK had led to a brain drain of talent moving abroad to find work.
"There is a brain drain in this country. Forty-two percent of people who lost their jobs in the industry have gone abroad now. A lot have gone to Canada and the US and there are a lot of talented graduates who are now looking to leave the country," Lowthorpe.
Must Read:
Videogames Tax Break Welcomed by Industry Experts
Videogames Should be on the National Curriculum