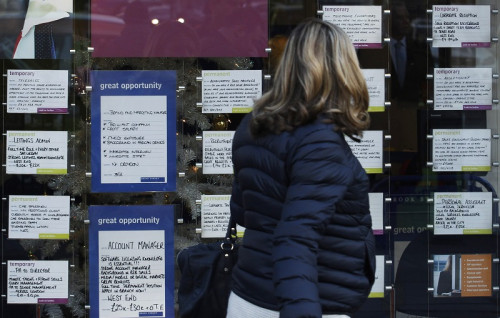 The UK's jobless rate is dropping at a faster speed than previously envisioned and it will reach the Bank of England's 7% "threshold" well before the central bank estimated, according to a new poll.
The survey, which was conducted this week by Reuters and questioned 50 economists, suggests that Britain's current unemployment rate of 7.4% will steadily fall in the coming financial quarters and reach Mark Carney's pledged rate for considering interest rate rises of 7% early next year.
"Recent sharp falls in unemployment will probably continue over the next few months. It will still take a year or so to reach 7% but growth in the workforce should remain strong," Samuel Tombs, a UK economist at Capital Economics told Reuters.
The poll's findings are significant because it indicates the UK could see its interest rate rise from a historic low of 0.5% to 0.75%.
In addition, the survey found 13 of 35 economists in the poll – representing 37% of those questioned – expect a lowering of the threshold, probably to 6.5%.
"The BoE needs to review whether the 7% unemployment threshold is appropriate for the use of forward guidance, especially as the unemployment rate is quickly approaching 7%," said Azad Zangana, a European economist at Schroders.
"Hitting the threshold will give the impression that the BoE will then consider raising interest rates, which we think it has no intention of doing in the near term."
The figures come after the boss of the UK's leading recruitment industry organisation hailed 2014 as "a year full of opportunity" for the sector.
Kevin Green, chief executive of the Recruitment and Employment Confederation, said his organisation is forecasting that the British recruitment market will see accelerating growth with the first quarter of 2014 growing at about 7% followed by the market picking up to above 8% across the latter part of the year.