A UK politician has claimed there is "clear evidence" unspecified Russian forces have directly interfered in British elections, going as far to argue that decisions at the upper echelon of the country's security services have been "compromised" by Kremlin infiltration.
"There is now clear evidence of Russian direct, corrupt involvement in elections in France, in Germany, in the United States of America, and I would argue also in this country," said Chris Bryant MP, a Labour politician, in the House of Commons on 21 February.
In his strongly-worded speech to a half-empty room, he continued: "Many believe that some of the highest level decisions affecting security in the United Kingdom, in Germany, in France and in the United States of America are now compromised by Russian infiltration."
Ever since the cyberattacks at the Democratic National Committee (DNC) last year, state-sponsored hacking has become a major talking point on the lips of many political representatives around the world.
US intelligence believes the group responsible for the cyber-intrusion was ATP28, a notorious group also dubbed Fancy Bear. The hackers' techniques and choice of malware, according to multiple cybersecurity firms, suggest strong links to the Kremlin's intelligence services.
Bryant, a former Minister of State for Europe, spoke out following revelations from across the water that US president Donald Trump was not being briefed on a daily basis by his security services over alleged fears his administration would leak sensitive information to Russian spies.
In the UK, during the opening of a new National Cyber Security Centre (NCSC) in central London, GCHQ intelligence chief Ciaran Martin told media that some political parties have approached the security services over fears that cyberattacks may be used to disrupt democracy.
"Protecting the integrity of the electoral democratic systems is up there with the top priorities," he said. "Of course it is. But it is not just a question of something happens to the Democratic National Committee, therefore we look at the corporate networks of British political parties."
Martin said there has been a "step-up" in cyberattacks over the past two years and the west is now "on alert and looking at defences in that sort of area of the electoral process", in reference to upcoming elections in the Netherlands, France and Germany.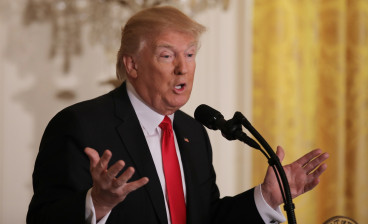 The security services have acknowledged a cyberattack in the run-up to the UK election in May 2015, however the extent of the damage caused remains vague. One incident from that year which recently came to light was a widespread computer infiltration of a British TV network, which remains unnamed.

As previously reported, Lee Lawson, a researcher with security firm SecureWorks, said his organisation had uncovered evidence that a hacking group – Fancy Bear - used the same backdoor tactics now believed to have been deployed to break into the DNC's networks.
In a report released in August last year, former independent reviewer of terrorism legislation David Anderson CQ referenced the incident, calling it a "possible imminent threat" to the UK. Last September, GCHQ claimed to have stopped similar attacks against the BBC, ITV, Channel 4 and Sky.
In December 2016, a separate Labour Party MP, Ben Bradshaw, stood up in the House of Commons during a debate on the Aleppo crisis and claimed hackers may have also influenced the outcome of the UK public's controversial vote to leave the European Union (EU) last year.
"I don't think we have even begun to wake up to what Russia is doing when it comes to cyberwarfare," he said at the time. "Not only their interference, now proven, in the American presidential campaign, probably in our own referendum last year."
Officials in Russia, including President Vladimir Putin, have denied involvement in the cyberattacks. "The hysteria is simply to distract the American people from the contents of what the hackers have posted. There's nothing there benefiting Russia," he said last October.
US spies think differently. "Such activity is not new to Moscow — the Russians have used similar tactics and techniques across Europe and Eurasia," read a joint intel statement last year. "We believe [...] that only Russia's senior-most officials could have authorised these activities."