Russian spies in the White House? Secrets being withheld from Trump says ex-NSA analyst
Former analyst claims it is 'assumed [the Kremlin] has ears inside' the Oval Office.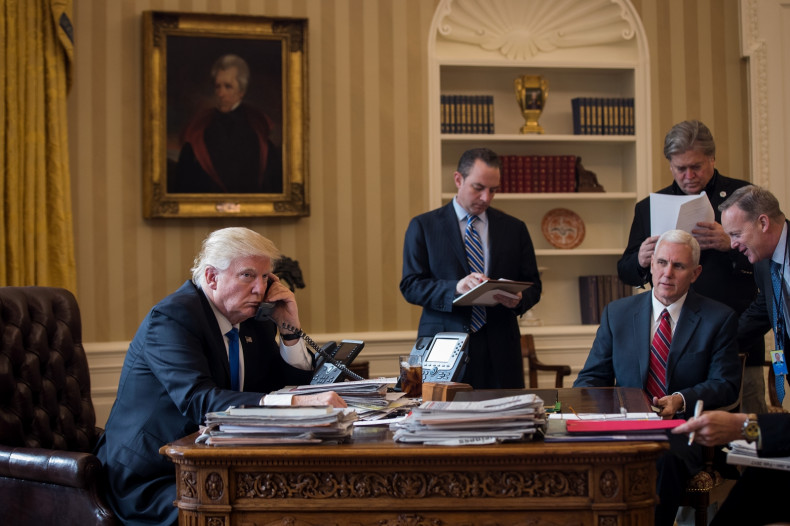 Frustrated intelligence officials in the US are reportedly "holding back" highly classified information from President Donald Trump amid unprecedented fears the White House itself has been compromised by Russian operatives, a former NSA analyst has claimed.
John Schindler, a former counterintelligence expert for the secretive US intelligence agency, said some spooks are in a state of revolt over Trump's apparent lack of support. One key Pentagon official said it is now assumed the Kremlin "has ears inside" the Oval Office.
Links between Trump and Moscow have loomed over the president since his controversial election campaign last year, with the Intelligence Community (IC) largely in agreement that Russian hackers targeted the Democratic Party to help him get into office.
Since assuming his role, Trump has reportedly been less than enthusiastic about the President's Daily Brief (PDB). In December last year, it was revealed he was declining to receive them as standard. "I get it when I need it," he told Fox News in an interview.
Yet for America's spies, who are used to having the ear of the president in order to discuss major threats to the nation, the stance has led to the unwelcome conclusion the president is now actively neglecting their services, Schindler reported.
"For decades, NSA has prepared special reports for the president's eyes only, containing enormously sensitive intelligence," he wrote. "In the last three weeks, however, NSA has ceased doing this, fearing Trump and his staff cannot keep their best Sigint [Signals Intelligence] secrets.
"In light of this, and out of worries about the White House's ability to keep secrets, some of our spy agencies have begun withholding intelligence from the Oval Office. Why risk your most sensitive information if the president may ignore it anyway?"
Additionally, Schindler quoted an anonymous senior Pentagon official as saying: "Since January 20, we've assumed that the Kremlin has ears inside the SITROOM [White House Situation Room]. There's not much the Russians don't know at this point."
Some critics quickly rubbished the report. "The number of people who instantly believe every anonymous evidence-free claim from Intel community [and] treat it as fact is genuinely alarming," tweeted national security journalist Glenn Greenwald after its publication.
White House officials have consistently denied any association with Russia, but maintain Trump's plan is to work with Moscow to combat terrorism. In early February, Trump tweeted: "I don't know Putin, have no deals in Russia, and the haters are going crazy."
However, in another scandal, US national security advisor, Michael Flynn, was forced to resign this week (13 February) over conversations he had with a Russian envoy during the lead-up to Trump assuming office about the possibility of lifting long-held sanctions in the country.
"I inadvertently briefed the vice president elect and others with incomplete information regarding my phone calls with the Russian ambassador," Flynn said in his resignation letter. General Joseph Keith Kellogg has now been named as acting national security adviser.
Previously, on 10 February, one of Flynn's top advisors, Robin Townley, was rejected for a high-level security clearance by the Central Intelligence Agency (CIA). An inside source said Flynn was "infuriated" after the rejection was approved by Trump-appointed CIA boss, Mike Pompeo.
Questions still remain over a damning research dossier compiled on Trump by former British intelligence officer Christopher Steele. The 35-page document, containing a slew of unverified and lurid claims, has recently been found to have merit, CNN reported.
Citing multiple current and former law enforcement officials, the US publication said some of the communications in the report "between foreign nationals" have now been verified, but sources declined to comment if the intercepted messages directly implicated the president.
In response, White House press secretary Sean Spicer slammed the report as "fake news."