U.K. retail sales increased in March as warm weather boosted the sales of non-food goods, at the same time the permanent job placements increased for a third straight month giving an indication that the British economy is recovering slowly.
According to the British Retail Consortium (BRC), UK retail sales values were up 1.3 percent on a like-for-like basis from the previous year. Due to timing of Easter, March 2011 seemed weak as the sales were down 3.5 percent. In February same-store sales fell 0.3 percent on the year while total sales rose 2.3 percent.
"The unusually warm weather in March brought some welcome sunshine into the lives of non-food retailers. The early signs of summer got people buying clothes and shoes for the new season. Gardening items and outdoor leisure also saw a lift," said Stephen Robertson, Director General, British Retail Consortium.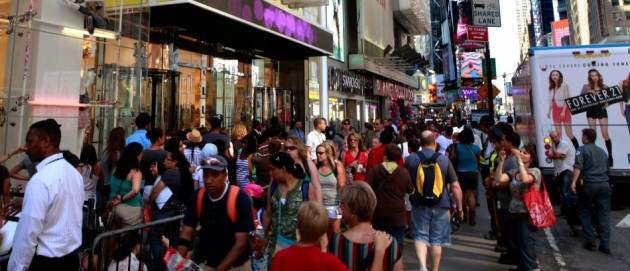 The survey revealed that non-food goods' online (including mail-order and phone) sales growth was robust and sales were 13.9 percent up on a year ago, the best since December 2011. Growth in food sales was unchanged from February.
"As consumers' incomes continue to be squeezed, it's female shoppers who are tightening their purse strings most severely, focusing more on lower price point items to control the household budget. This buying behaviour saw women's clothing perform less strongly than men's and childrenswear. Home accessories and textiles also had a poor month," said Helen Dickinson, Head of Retail at KPMG.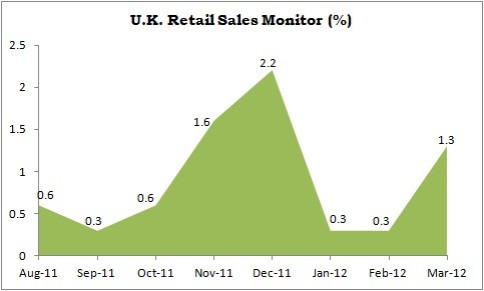 However, a sign of recovery in shopping is seen as morale edges off record lows, and it is expected that a stabilising labour market should also support the consumer confidence.
In a separate survey conducted by the Recruitment and Employment Confederation (REC) and KPMG indicated that the number of vacancies in UK increased in March at the fastest pace since July previous year.
The REC's monthly index fell to 52.4 in March compared to 53.2 in February, though index above 50 indicates growth. Placement for permanent staff also rose for the third month in a row, but at a minor rate than in February. "From this month, hiring should get a further boost from recent tax changes, a government-supported programme for young jobless and cuts in red tape for businesses," said Tom Hadley, Director of Policy and Professional Services at the REC.