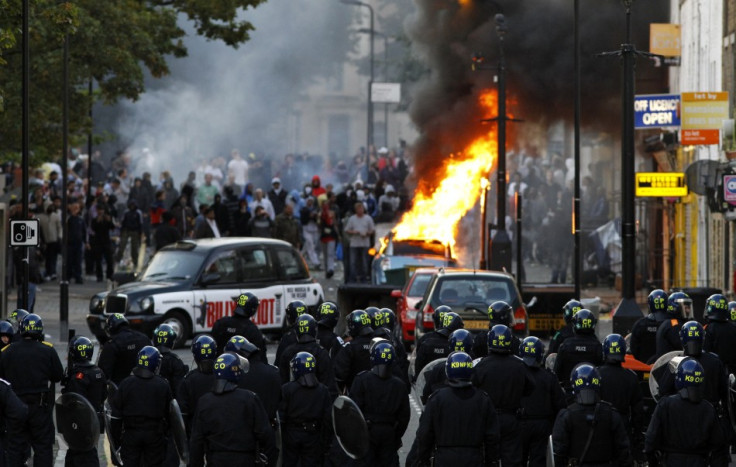 Members of the public have taken to the streets of London to protect their communities from violence and looting.
People have taken to the streets of Enfield, where over 70 men patrolled the streets on Tuesday nights. Some members of the Enfield community have taken a stand against rioting and are said to be standing with the over stretched police force.
The vigilantes are prepared to take a stand against the civil disorder that took over parts of London on Monday night. Thus far, the residents of Enfield have come together to protect their streets in a responsible way to prevent any more damage happening to shops and places that are parts of their community.
One of those involved in the patrol, Nick Davidson, said a lack of action from police prompted their decision: "We've had enough of the police just standing there ... while people are looting and ruining the whole area.
"Everybody here pays tax and we've all had enough of it. We're sickened by the police doing absolutely nothing. They're not policing our streets, we have to police them," he continued.
Matt Skooly, 39, insisted that his group had had a positive response: "We've been cheered by pedestrians, other local people and the police cheered us on as well. Hopefully this is going to cap it, this is the last of the kids coming out like thugs and wrecking stuff, we'll look after our own streets in a responsible way," he said.
Burly groups of men, believed to be Turkish, were last night guarding shops along Stoke Newington High Street, in North East London -- just a mile from the troubles in Hackney. Many businesses in the area are run by Turks and last night most of the premises were fronted by men armed with baseball bats vowing to defend the shops from attack.
On nearby Shacklewell Lane, the Turkish community was praised with keeping peace across the riot hit area. The Sun has reported that youths setting fire to a single-decker bus were chased away by stick-wielding protesters.
There is no doubt that thus far the people helping to protect their streets should be praised for their bravery, courage and solidarity to members of their community. It is this spirit that sets decent people apart from the thugs that attacked London's towns on Monday night. It is clear that some members of some communities have lost faith in the police, believing the only way to protect their streets is to come together and do it themselves.
The vigilantes at the moment are providing support for the police that they so badly need. However, there are fears across the UK that right-wing extremist groups will attempt to take hold of what has happened in areas such as Croydon, Eltham and Enfield to heighten racial tensions.
In Eltham on Tuesday night, the English Defence League organised the vigilante operation; an operation that was then monitored by the police.
The main issue with the vigilante operations that have been protecting local communities is what powers the people have. If the operations catch looters in the act, will they be prosecuted for attacking those responsible? What would the public's reaction be if they were arrested? The police have to take control of these groups to avoid the problems many fear.
For more information on Tuesday's riots, click here.