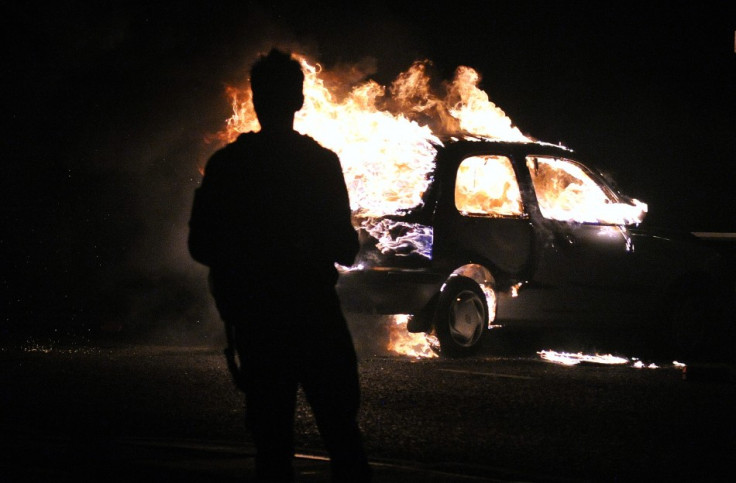 Richard Mannington Bowes, 68, who was attacked after remonstrating with rioters in Ealing on Monday, has died in hospital Scotland Yard has announced.
Mr Bowes of Haven Green, Ealing, suffered serious head injuries and was placed on a life support machine following the attack at around 10.45pm on Monday as violence took hold of the streets of the capital.
The Metropolitan Police have launched a murder investigation and have issued two CCTV images of a man suspected of carrying out the attack and have said that the man was actively engaged in the rioting and looting in Ealing.
"This was a brutal incident that resulted in the senseless killing of an innocent man," Detective Chief Inspector John McFarlane, of the Met's Homicide and Serious Crime Command, said:
"I still need the assistance of the community who may have witnessed the attack on Richard, to come forward and provide information or images they may have recorded on mobile devices. This information could be crucial in catching his killer," he continued.
The man the police suspect of carrying out the horrific attack has been described as black male, big build, wearing a white t-shirt with writing on the front and a dark coloured jumper around his shoulders. The Met Police are appealing for witnesses or anybody who knows who the man is, to come forward and will be protected under the witness protection scheme.
The death of Richard Mannington Bowes has taken the death toll from the English riots to five after three men were killed in a hit and run incident in Birmingham on Tuesday night and a man was shot dead in Croydon during Monday's riots.
Another wave of rioters and looters will face justice in the courts on Friday as measures are put into place to prevent a repeat of the violence that took hold of the streets of Birmingham, London, Liverpool and Manchester. The government has confirmed that 1500 people have been arrested across the capital with over 500 charged with the disorder.
On Thursday Scotland Yard confirmed that among those arrested was a man in connection with the assault and robbery of a Malaysian student in an attack that shocked the UK. The student was filmed being helped to his feet after an attack only for the group of youth to mug him.
Two youths and a man have been arrested on suspicion of murdering Haroon Jahan, 21, and brothers Shazad Ali, 30, and Abdul Musavir, 31 in the central English city early on Wednesday.
The deaths were described by Cameron, who visited Birmingham and Wolverhampton on Wednesday, as a "dreadful incident" and followed the killing of Trevor Ellis, 26, who was shot following a car chase in Croydon on Monday.
Prime Minster Cameron will chair another emergency COBRA meeting on Friday morning. A post mortem examination into the death of Mr Bowes is expected to take place on Friday.
UPDATE: A 22 year old man has been arrested in connection of the murder of Richard Mannington Bowes in Ealing. More to follow.