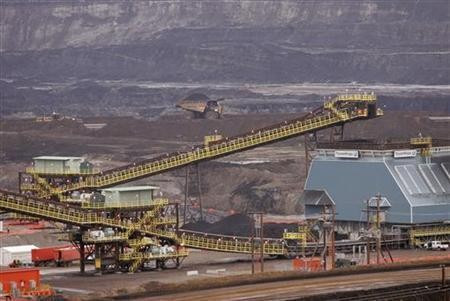 The British government has been giving secret support to Canada's campaign against EU penalties on its highly polluting tar sands fuel, a newspaper reports.
The Guardian has said that the government was lobbied by oil giants Shell and BP, which both have huge tar sand projects in Alberta and have opened a new consulate in the province to "support British commercial interest."
At least 15 high-level meetings and frequent communications have taken place since September, with Prime Minister David Cameron discussing the issue with his Canadian counterpart Stephen Harper and stating privately that the UK wanted "to work with Canada on finding a way forward," according to documents released under freedom of information laws.
The documents were obtained by the Co-operative, a group which targets tar sands as part of its anti-climate change campaign.
Canada's vast tar sands would emit a lot of greenhouse gas, more than drilling conventional fuels and cause a lot of pollution.
The EU proposal is to designate transport fuel from tar sands as resulting in 22 percent more greenhouse gas emissions than that from conventional fuels. Such a designation would require suppliers to reduce the emissions from their fuels by 10 percent by 2020.
It would also mean a dirty label for Canada for processing polluting tar sands.
The UK and Canada's joint opposition to the EU plan puts the UK in a minority among EU countries and is likely to draw lot of criticism in the global negotiations on tackling climate change in Durban, South Africa, beginning on Monday.
These revelations are also a blow to Cameron's claim to be the "greenest government ever."
The vote to approve the European quality regulations takes place on Friday.
Ahead of the vote, Foreign Secretary William Hague assured Canada of the UK's support.
However, the Department for Transport, which has responsibility for tar sands issues, released only two presentations made by Shell, both heavily revised.
The DfT and the Department for Business, Innovation and Skills rejected requests to release at least other six relevant documents on the grounds of commercial confidentiality and adverse effect on international relations.
"The scale of oil industry lobbying exposed in these documents is quite extraordinary. It's especially worrying that Norman Baker, the transport minister, held secret meetings with Shell about this key European vote on tar sands. But worse still, he is now covering up what was discussed," said John Sauven, executive director of Greenpeace UK.
Baker, while explaining the stand of the government, says it is unfair to single out one nation and that other types of fuel can be as dirty as tar sands.
Green activists argue that the European proposal does not name any nation and, on average, fuel from tar sands is a greater source of carbon by a clear margin, according to a Stanford University study for the European commission.
Moreover, the EU proposes to allow for changes in the emissions designated for fuel types.
Although Canadian government states that it supports efforts to reduce carbon emissions, it has admitted it will fail to meet its Kyoto protocol target of a 6 percent cut compared with the 1990 levels; in 2009, its emissions were 34 percent higher.
The International Energy Agency expects tar sands production to treble in the next 20 years.
The new documents and diplomatic sources suggest that the Netherlands, Spain and Poland are among those backing the British-Canadian position.
Greenpeace's Sauven, along with other environmental activists, have written to Nick Clegg, deputy prime minister and Liberal Democrat leader, about the issue.