The UK Met office warned of a cold and wet start to 2017, with fog and ice triggered by a northerly air poised to disrupt New Year celebrations and travels over the weekend. The conditions will be worse in the northern part of the country, while the southern UK is expected to have dry settled conditions on New Year's Eve.
However, the met office added that conditions will improve over the week and the first week of 2017 "is expected to be mostly dry and rather cloudy for many with temperatures rising a little as the wind changes to northwesterly".
Cold weather conditions have prevailed in the country for most part of this week, causing travel chaos and disrupting air traffic. The Guardian reported that some 119 flights were cancelled at UK's biggest airport, Heathrow, and about 180 flight cancellations were reported at London City airport by Friday (30 December) evening. Stansted, Gatwick, Manchester and Luton airports also had to cancel or delay flights due to the freezing weather conditions.
Brent Walker, deputy chief meteorologist, said on Friday: "There is plenty of good news in the forecast for those heading out and about for New Year's Eve in the southern third of the UK with dry settled conditions. However further north there will be rain for a time, followed by showers, turning wintry at times with snow possible over the Scottish mountains.
"The type of weather across the UK then changes as we head through New Year's Day [1 January] with northerly winds and an Arctic Maritime airmass moving across the country behind a band of rain. The rain, along a cold front, is already over southern and eastern areas of England by New Year's morning, bringing a spell of wet weather for some, followed by clearer, colder, sometimes showery weather," the met official added.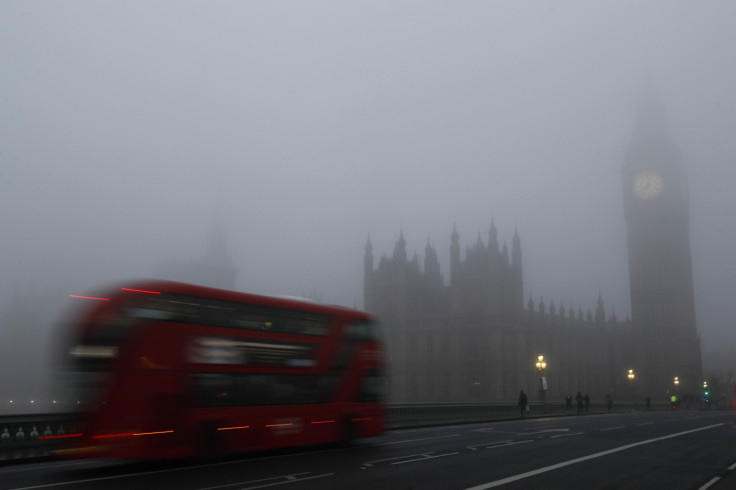 Meanwhile, RAC spokesman Rod Dennis cautioned people driving on the roads amid foggy conditions. "Drivers are facing a mix of hazards – notably much colder conditions. Any lingering fog calls for drivers to adjust their speed and maintain longer stopping distances and to use dipped headlights. Only use your car's fog lights if visibility is badly reduced, as using them when it's not, means you risk dazzling other drivers.
"Motorists should remember that if their car thermometer records a temperature of 4 degrees or lower, there is a good chance the road temperature is near or even below freezing, meaning a very real risk of ice and slippery roads. Keep listening to traffic reports before you start your trip and if conditions are bad, aim to stick to major routes which are much more likely to be gritted," he added.