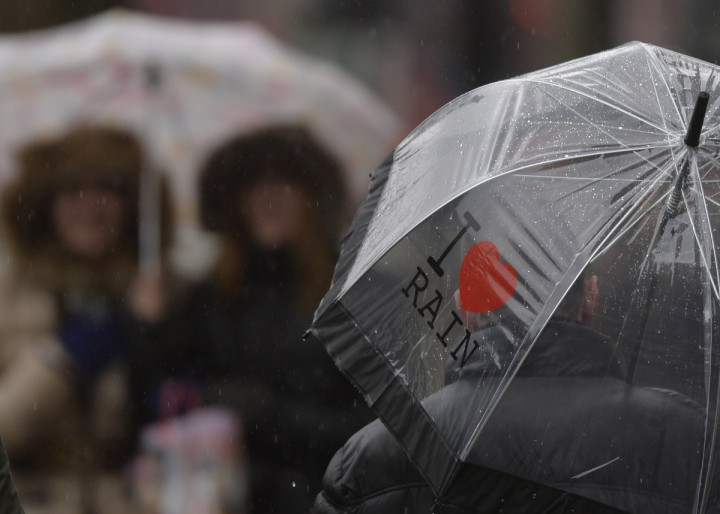 The Met Office has warned that severe weather including torrential downpours, thunder and lightning will cover most of Britain over the next few days.
Only Devon, Cornwall and most of Wales will escape the downpour.
Some places could see between 0.8in (20mm) and 1.2in (30mm) of rain fall in an hour - almost half of the UK monthly average for the whole of June of 2.9in (73.4mm).
Met Office spokesman Dan Williams said the downpours will be "pretty heavy".
"We are looking at the potential for some localised flooding because they are potentially heavy enough that we could see so much rain fall in a short space of time that it can't drain away fast enough," he told the Daily Mail.
Regions where yellow "be aware" warnings for rain are currently in place are North West England; North East England; Yorkshire & Humber; West Midlands; East Midlands; East of England; South West England; London & South East England; Strathclyde; Central, Tayside and Fife; South West Scotland; Lothian Borders; Northern Ireland; and Wales.
John Curtin, director of incident management at the Environment Agency, said: "There is a low but increased risk of flooding this weekend across the whole of England, as isolated torrential downpours are predicted.
"We are monitoring the situation closely in case things change and will have teams ready to respond 24/7. The Environment Agency is also supporting local authorities who will respond to any reports of surface water flooding."
Williams said the downpours will ease by Sunday when there will be some "good, dry and bright spells", particularly in southern and eastern parts of the country and only a risk of light rain in some areas.
More rain is expected all over the country on Monday and will continue into next week with some bright spells mixed with rain showers.
Friends of the Earth climate campaigner Guy Shrubsole told the Telegraph: "After the wettest winter ever recorded it's clear that something is seriously weird with our weather.
"With the Met Office confirming this week that climate change is set to make heavy summer downpours the norm in future, the government must take this threat far more seriously.
"It should start by putting carbon-cutting at the heart of policy-making, and building enough flood defences to keep pace with our changing climate - rather than having to splash out to repair the damage later on."
January and February were the UK's wettest winter months in more than a century.