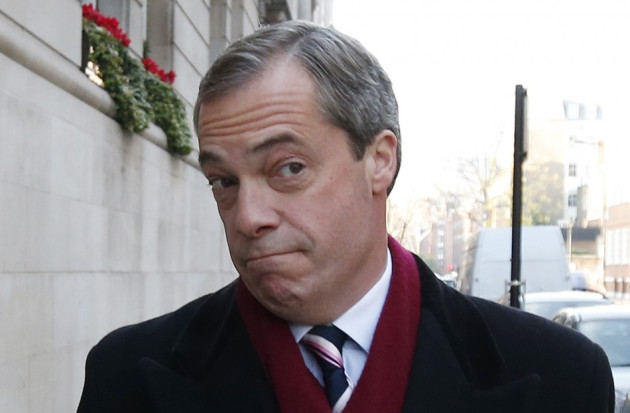 In the run-up to David Cameron's keynote speech on the UK's relationship with Europe, a poll has shown that support for the UK Independence Party is at a record high.
The Ipsos Mori Political Monitor has found nine per cent of the public say they would vote for Ukip - a rise of two points compared to last month.
Support for the Liberal Democrats has dropped to just eight percent, their lowest level since 1990.
Labour has a 13-point lead over the Conservative party, at 43 percent compared to 30 percent.
Ukip leader Nigel Farage told the London Evening Standard that his party's growth was the catalyst for the prime minister to address the situation with the EU.
"Here in the coffee bars of Strasbourg every Tory MEP I speak to says the same thing. Their Eurosceptics say 'if not for you this wouldn't be happening' while their Europhiles say it's because of us that the prime minister can't focus on domestic issues," he said.
Public frustration with main parties
A recent poll of more than 1,500 Conservatives supports Farage's assertions. It found that 85 percent believe Cameron is making his speech on Europe to respond to "the growing Europscepticism within the Conservative party and within the electorate".
Cameron will outline Britain's relationship with the European Union in his speech and is expected to set out plans to claw back some powers from the EU. He will hold a referendum on the issue at a later date.
Gideon Skinner, head of political research at Ipsos Mori, said Ukip was becoming increasingly popular because of public frustrations with the main parties.
The poll found that just 27 percent are satisfied with the government's performance, with 64 percent dissatisfied.
Just 34 percent are satisfied with Cameron and only 28 percent with Nick Clegg. 36 percent are happy with Ed Miliband.
Miliband has branded Cameron's position on Europe "incredibly dangerous". He said a referendum on Britain's relationship with the EU was not in the nation's best interest.
On The Andrew Marr Show, he said: "He is essentially sleepwalking us towards the exit door of the EU."