Hollywood actor Steven Seagal has been barred from the Ukraine and blacklisted as a national security threat for five years following his conversion to Russian citizenship.
Ukranian security services enforced the measure amid ongoing tensions in Eastern Ukraine – escalated by the Russian annexation of the Crimea in 2014.
A letter released to the media by Ukranian security services confirmed the politically-charged decision, stating Seagal "committed socially dangerous actions… that contradict the interests of maintaining Ukraine's security".
The US film star has been punished for meeting with President Vladimir Putin at a media-driven ceremony, which saw Putin personally grant Russian citizenship to Seagal and presenting him with a signed passport in November 2016.
During the exchange, Putin told Seagal that he hoped their "personal relationship will remain and continue", reciprocating previous comments from the actor, who branded the president one of "the world's great leaders" and described the controversial annexation as "reasonable".
The comments led him to be included in a proposed blacklist of foreign figures in 2015, deemed to have spoken out "in support of violating the territorial integrity and sovereignty of Ukraine", as part of a cultural war with Moscow.
This includes French actor Gérard Depardieu, who is now equally prohibited from entering Ukraine after taking Russian citizenship.
The eastern European neighbour has also banned Russia's entry to the Eurovision song contest, set to be held in its capital, Kiev, next week.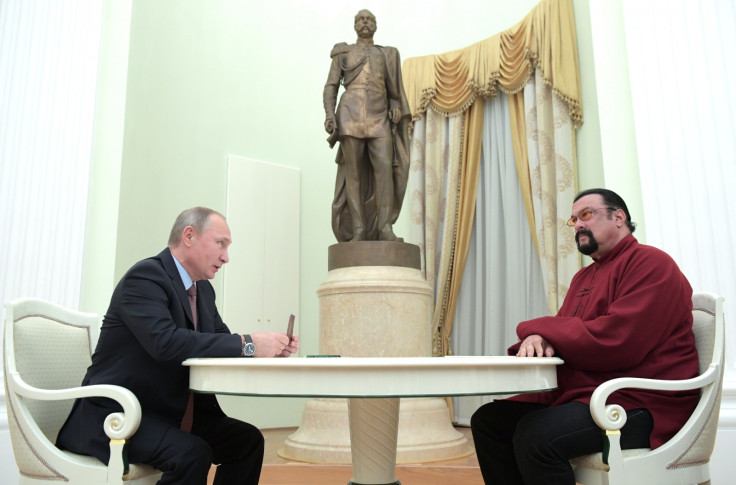 Seagal, perhaps best known for 1992's Under Siege, remains a popular figure amongst Russian audiences, despite often playing the American war hero.
The 64-year-old has been a regular visitor to Russia for over a decade and played with his blues band in Crimea, held by a pro-Putin biker club, with the flag of eastern Ukraine separatists flying onstage, reports the Guardian.
Despite being denied entry to Ukraine, Seagal does, however, maintain a unique status among nations within the Russian sphere of influence, having previously obtained Serbian citizenship after opening a martial arts school in 2015. He also had the special honour of being fed carrots by Belarussian president Alexander Lukashenko.