Comedian and late night chat show host Stephen Colbert faces investigation by the US Federal Communications Commission (FCC) for his controversial joke about US President Donald Trump and Russian President Vladimir Putin.
The 52-year-old comic caused a social media firestorm in a pointed opening monologue lashing out at Trump, amid the Trump healthcare vote and ongoing suggestions of electoral collusion with Russia.
In the tirade on Thurday (4 May), Colbert said: "You have more people marching against you than cancer. You talk like a sign language gorilla that got hit in the head. In fact, the only thing your mouth is good for is being Vladimir Putin's c**k holster."
The comment drew a number of complaints from viewers according to FCC Chairman Ajit Pai, who has since confirmed to US politics news website The Hill that the commission will "take the appropriate action" following a comprehensive investigation of the remarks.
The final ruling will hinge of whether the sexually-charged joke is deemed "obscene", even within its comedic, satirical context.
According to the agency's website, this will be judged according to a three-tier Supreme Court test.
"It must appeal to an average person's prurient interest; depict or describe sexual conduct in a 'patently offensive' way; and, taken as a whole, lack serious literary, artistic, political or scientific value," it states.
Outlining the scope of the forthcoming investigation, Pai said broadcast television looks for "indecent" content before 10pm and "obscene" content thereafter.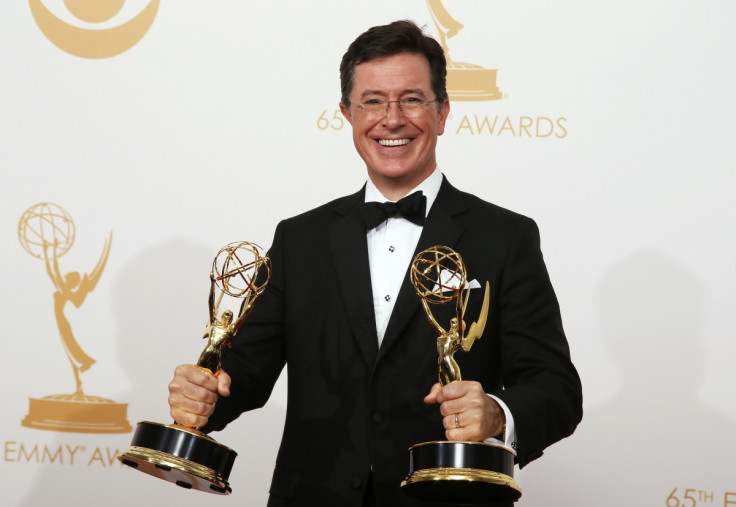 Colbert's "The Late Show" falls into the latter category, aired at 11:35pm ET on CBS.
"We are going to take the facts that we find and we are going to apply the law as it's been set out by the Supreme Court and other courts and we'll take the appropriate action," Pai told Talk Radio 1210 WPHT on Thursday (4 May).
"Traditionally, the agency has to decide, if it does find a violation, what the appropriate remedy should be," he said. "A fine, of some sort, is typically what we do."
Colbert's remarks irked Trump supporters who took their frustration to Twitter with the #SackColbert hashtag. Others also branded the remarks homophobic.
In response, Colbert admitted he would "change a few words" that were "cruder than they needed to be" but insisted he did not regret a "few choice insults".
Addressing the homophobia accusation he said: "I'm not going to repeat the phrase, but I just want to say for the record, life is short, and anyone who expresses their love for another person, in their own way, is to me, an American hero.
"I think we can all agree on that. I hope even the president and I can agree on that. Nothing else. But, that."
Despite the controversy, Colbert has much to celebrate as Thursday night's episode scored a 2.5 rating – his highest since launching in 2015 – far surpassing NBC's Tonight Show with Jimmy Fallon, which came in at 1.9.