Ukraine Crisis: President Viktor Yanukovich Vows Return, Claims Terrorists Targeted Him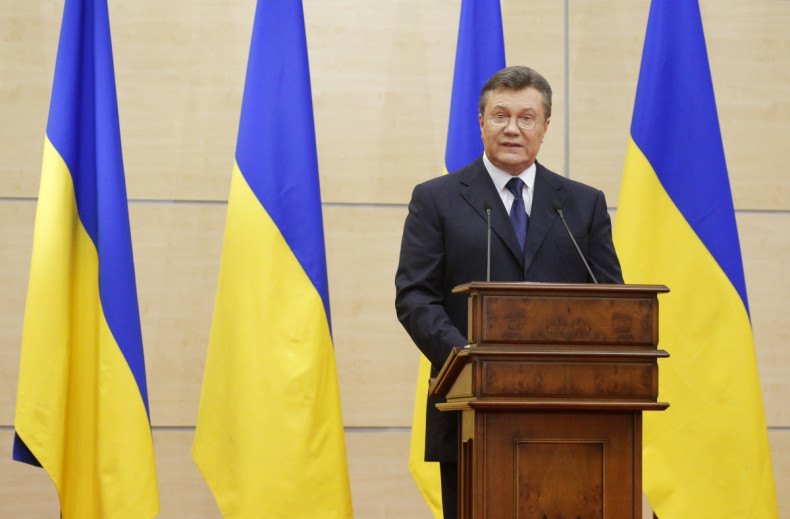 Ousted Ukrainian president Viktor Yanukovich claimed he has been the target of numerous unsuccessful terrorist attacks, as he resurfaced in public for a second time since he fled Ukraine in February.
"These days there have been quite a few attempted terrorist actions against me, but they failed," Yanukovich claimed at a press conference in Rostov-on-Don, South Russia.
The fugitive president accused the West of backing an illegitimate government that includes gangs of "bandits", "fascists" and "nationalists", and vowed to come back to Ukraine, stating that he is still its legitimate leader.
"I'm the only the legitimate president and the commander in chief of the army," Yanukovich said. "When situation will become better I will go back to Ukraine."
It was his second public appearance since fleeing Kiev in the wake of the revolution and came after rumours he suffered a heart attack that circulated in the Russian and Ukrainian press last week.
"I'd like to say that I'm alive," Yanukovich said. "Although I have to say I do not feel very well as I feel deeply concerned about what is happening in Ukraine right now."
He accused Kiev's new authorities of stirring up tension "to spark a civil war" in Ukraine.
"Disguised behind the veneer of an allegedly legitimate government there is a gang of ultranationalists and fascists are now acting in Ukraine, including people who are now aspiring to the presidential office," Yanukovich said. "Cites are patrolled by masked gunmen and there is an increasing flow of lawlessness."
Yanukovich, who had his and his son's assets frozen by the EU over allegations they embezzled billions from public funds, said the country economic crisis is going to deepen.
He said the new government will try to shift blame on him and Russia but he actually had an economic plan to secure the country's prosperity, which became impossible because of the revolution.
He described his ousting as a "coup" and the new government as a "Junta" although there is no evidence the military was involved in the four-month protest that toppled him.
Yanukovich said Ukraine's next elections will be "totally illegal" and controlled by extremists. He accused the US and Europe of being the patrons of "dark forces".
The Kremlin-backed ruler said that, as a consequence, people in Crimea have rightfully decided to secede.
"Because of your [the new government's] actions Crimea is going to secede. These people are demanding their right to be complied with," Yanukovich said.
The Crimean parliament has called a referendum for the region to secede from Ukraine and join Russia instead.
The Ukrainian interim government has called the planned referendum on Sunday illegal, as have the US and EU.
Crimea is the only region of Ukraine populated by a majority of ethnic Russians.
The peninsula has been under de facto control of pro-Russian troops that took over key locations in the region in the wake of the revolution that toppled Yanukovich.
The ousted president made no mention of Russia's involvement in the crisis.
Earlier, Russia announced it was drafting counter-proposals to a US plan for a diplomatic solution to the crisis. Russian authorities said proposals made by US Secretary of State John Kerry were "not suitable" because they took "the situation created by the coup as a starting point."
In turn Kerry rejected an offer of talks with President Vladimir Putin saying Russia must first show evidence it was committed to engage with US proposals.