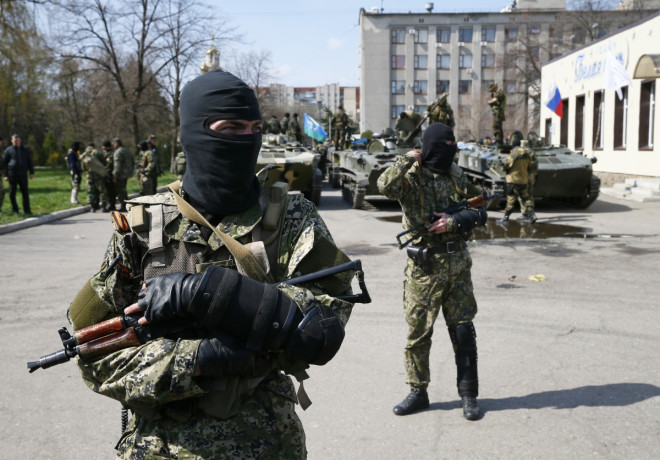 Ukraine could meet with Russia, Slovakia and the European Commission this week in a bid to thrash out a deal on Ukraine's gas crisis.
Kiev's interim energy minister Yuri Prodan told reporters on Wednesday that the parties could discuss Ukraine's outstanding gas bills and the possibility of reversing gas flows from Slovakia, at a meeting in Bratislava on Thursday.
"There is a proposal from the Russian side and the European Union to hold four-side talks," Prodan said.
"As of today, a meeting in Bratislava of four ministers is being considered ... but so far there is no confirmation from the European Commission."
Meanwhile, the European Union is simultaneously stepping up precautions to cope with a potential cut-off in Russian gas supplies as the Russian Prime Minister Dmitry Medvedev called the West's rhetoric a "bluff".
He added that tougher sanctions would provide an opportunity for Russia to diversify its markets and reduce its dependency on imports.
"I am sure we can minimise their impact," he said. "We will not allow our citizens to become hostages of political games."
The Geneva deal reached last Thursday looks, if not dead, then on life support.
By the agreement, armed pro-Russian militias were supposed to hand over their weapons and retreat from government buildings, in towns and cities across eastern Ukraine.
Neither of these conditions have been met, however. Instead, aggression has persisted and good-will between Russian and Western leaders seems to be running out.
Addressing the long running dispute over the price that Kiev pays for Russian natural gas, Medvedev said Ukraine's interim government would have to pay for its energy supplies on the nail.
"It's gas for cash," he said.
The dispute between Russian energy giant Gazprom and the interim government in Kiev originated when the company almost doubled the price its charges for gas in a week. The hike was accompanied by a demand that Ukraine immediately pay off its outstanding bills of $2.2bn. Kiev refused, describing the pricing as "political" and an "economic assault".
The Russian President Vladimir Putin then wrote to European leaders to warn that gas supplies to the EU could be affected if Gazprom were to shut down supply lines to the Ukraine.
Europe relies on Russia for around a third of its gas needs, 40% of which travels via Ukraine.
In an attempt to wriggle out of the crisis, Ukraine's government has discussed reversing the flow of gas from other EU countries including Slovakia, although questions have been raised about the legality of reversing flows through Gazprom-owned pipelines without the company's consent.