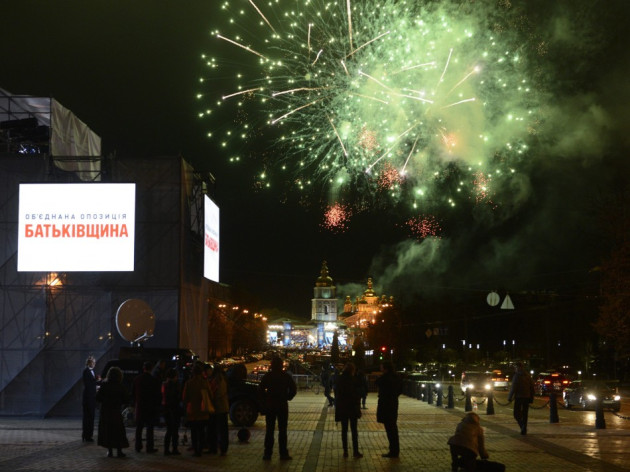 Ukraine's President Viktor Yanukovych has claimed victory in the country's parliamentary elections, based on the preliminary exit poll.
Early results showed a clean victory for the governing party - the Party of Regions - which has secured nearly 28 percent of votes ahead of the opposition's 24.7 percent.
The opposition bloc, called United Opposition Fatherland, is headed by Yulia Tymoshenko - the former prime minister imprisoned by Yanukovych for abuse of power last October. Tymoshenko cast her vote from her prison cell in the city of Kharkiv.
Boxer Vitali Klitschko's new UDAR (Punch) party will finish in fourth place, based on the exit poll findings.
'Absolutely clean'
Yanukovych's party is hoping to secure a two-thirds majority in Ukraine's 450-member assembly when the final official results are revealed in an announcement likely to take place on 29 October.
The ruling party said the elections once again asserted Ukraine's faith in the president. Nearly 45 percent of eligible voters among Ukraine's population of 46 million people turned out to cast their votes.
Yanukovych also alluded to recent allegations of corruption in Ukraine's electoral system, insisting that the election was fair.
"It's absolutely clear to everyone that the Party of Regions won. A lot of people wanted us to lose. But we won in an absolutely clean election. These elections signal confidence in the president's policies," said the prime minister and the party president Mykola Azarov.
"With this vote our people have shown that they understand what a difficult economic situation the country was in, and that our party has taken the full responsibility over the situation."
There have been no reports of clashes during the voting process, which was closely monitored by thousands of foreign observers.
Experts predict that victory for the Party of Regions in the parliamentary elections will help Yanukovych's chances in the 2015 election, when he faces re-election to the presidency.