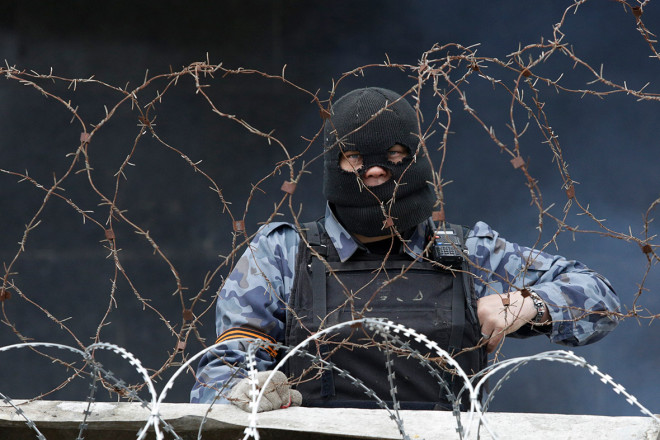 Ukraine is gearing up to launch its armed response in an attempt to flush out pro-Russian separatists from the seized state buildings of the restive cities even as shootings are being reported.
In the city of Kramatorsk, nearly 100km north of Donetsk, exchange of gunfire is said to have taken place eventually resulting in protesters seizing the police building.
"Kramatorsk (Donetsk oblast) is an attack. Unknown [men] fired shots at police and the security forces responded," said acting Ukrainian interior minister Arsen Avakov.
The pro-Russian protesters were reportedly armed with Russian-made AK100 submachine guns which are usually used by the Russian military, added Avakov.
"The government of Ukraine considers the facts of the present day as a manifestation of external aggression by Russia," said a statement on the internal ministry's website.
Hundreds of protesters stormed the regional police building in Donetsk and in the eastern Ukrainian city of Slaviansk as part of a wave of such pro-Russian protests in the last several days.
The US has been expressing concern over the increasing unrest in the eastern Ukrainian regions and Moscow's suspected involvement in the crisis.
Meanwhile, in its latest warning, Russia said the escalating conflict in Ukraine and use of force by Kiev's security personnel will jeopardise diplomatic initiatives in resolving the crisis.
Russian Foreign Minister Sergei Lavrov told his American counterpart in telephone conversation: "If Kiev's threats to use force against people driven to despair in the southeast are carried out, prospects for further cooperation on the Ukrainian issue, including a planned four-party meeting in Geneva, will be foiled."
"The leadership in Kiev is demonstrating its inability to bear responsibility for the fate of the country and to effectively engage all political forces and regions in an inclusive process of drafting a new constitution."
The White House will be sending Vice-president Joe Biden to Kiev in a show of support to the embattled Ukrainian administration. Biden, the senior-most US official to visit Ukraine since the crisis broke out, will meet Kiev's authorities on 22 April.