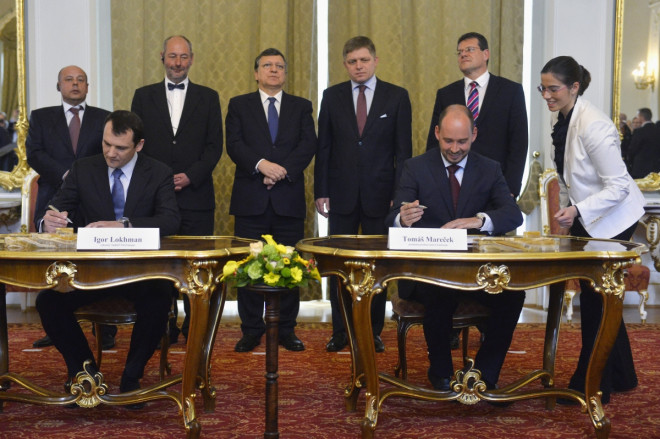 Ukrainian state gas company Naftogaz has initiated court proceedings against the Russian energy giant Gazprom over the price it charges Kiev for gas.
Ukraine's interim Prime Minister Arseniy Yatseniuk told reporters that Naftogaz had taken steps to fight Gazprom at an arbitration panel in Stockholm over inflated gas prices.
"If within 30 days no agreement is reached... we will turn to the court to resolve the dispute with Russian monopoly Gazprom," he said.
Yatseniuk stressed that Kiev is willing to quickly pay Gazprom $2.2bn in outstanding payments, but the payments would be at the rate of $268 per 1,000 cubic metres.
Gazprom almost doubled the price it charges Ukraine's government for gas this month, after pro-Russian president Viktor Yanukovych was replaced by an EU-friendly interim government.
Meanwhile Ukraine signed a deal with Slovakia on Monday that allows the European Union to send some gas to Kiev, should Russia carry out its threat to cut off gas supplies to its neighbour, if it does not pay Gazprom's higher price.
Ukraine is refusing to pay Gazprom's new prices, describing them as "political" and an "economic assault".
Under the deal, Ukraine will receive 8-9bn cubic metres of gas starting this autumn. The deal means that Ukraine can potentially receive up to 16-17bn cubic metres a year from Poland, Hungary and Slovakia, according to the Slovakian Prime Minister Robert Fico.
That would amount to around a third of Ukraine's annual gas use, which stands around 55bn cubic metres.